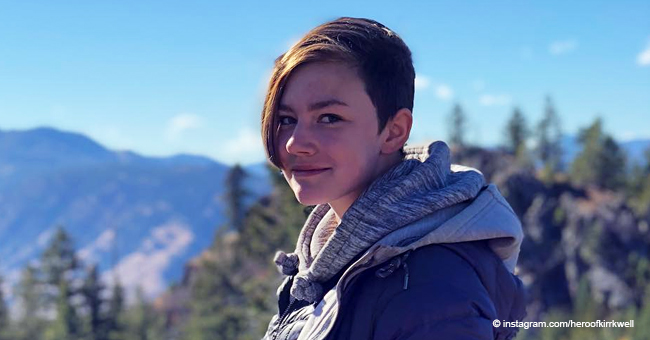 'Alaskan Bush People' Rain Brown Thanks God as She 'Stays Strong' Following Her Depression Battle
The youngest member of the Brown family opens up about what she's happy and grateful for, like her family's new homestead in Washington.
The young Brown has been updating followers about life on the family's new 435-acre plot of land in Washington, called North Star Ranch, where they moved to amid her mother Ami's lung cancer battle. While Ami has been victorious in this long battle, it has taken its toll on Rain, who has admitted that she is fighting her own battle, that of depression.
Her Instagram message says, "Life is about purpose. Change. Chance. Love. Hard work. And most of all, God. I'm so grateful that I get to spend my life with my incredible family in the bush of a beautiful state. I never thought I would feel like I do now again. I thought my happiness was over, little did I know it was only beginning."
She adds, "With a full heart and tears in my eyes, I want to say, 'Thank you.' Thank you for allowing me to thrive and be myself, and most of all thank you for supporting my family's hard work all these years. I can't wait to share more of our lives with you. Here's to freedom lovely's, cheers."
Her post was met with supportive comments from followers:
One user said, "So bright and mature for your age, keep doing your thing and don't let the negative Nancy's tear you down! They can be keyboard warriors all they want, but let's face it they probably wouldn't last a day surviving in the bush. Never be afraid to be yourself, your parents have raised you well!"
"I know you are an incredible girl Rainy. You have grown in confidence, you are beautiful inside/out. God Bless you and your family," said another.
In her most recent post, Rain continues to show gratitude, her caption saying, "Thank you, God." It was followed by the hashtags "stay strong" and "stay happy" with a majestic and breathtaking photo.
Again, her fans reacted with positive comments, like:
"Rain what a beautiful scenic picture. Gods beautiful creation."
"Amen to that Rain!"
"How beautiful! "It is a gift to live in this wonderful nature! The great view is breathtakingly beautiful!"
Another reason for Rain to be grateful is the birth of her nephew, Elijah Connor Brown, the first child of her brother Noah and wife Rhain.
We are rooting for Rain as she overcomes her battle and we wish her nothing but continued happiness.
It's not uncommon for child and teen stars to suffer from mental health issues. Selena Gomez has been quite open about her need to take a break and care for her mental health. Following the cancellation of the remainder of her 2016 tour, Selena spoke about mental health in the American Music Awards, saying, "If you are broken, you don't have to stay broken," reminding people that treatment is available.
Please fill in your e-mail so we can share with you our top stories!