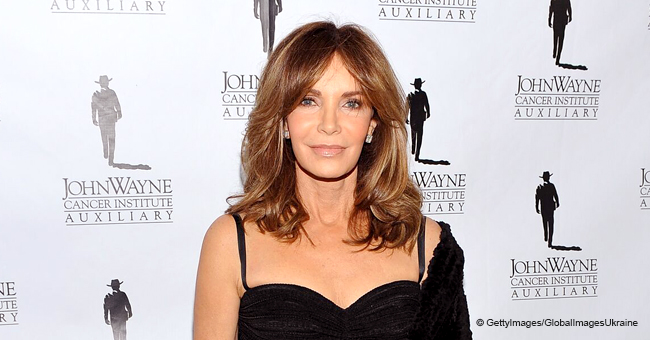 73-Year-Old Jaclyn Smith Makes a Rare Public Appearance and She Looks Great
Jaclyn Smith attended the Farrah Fawcett Foundation event and she aged like fine wine since her hit movie "Charlie's Angels."
73-year-old Jaclyn Smith doesn't look a day over 50. The actress who was one of the angels in the hit ABC crime drama "Charlie's Angels," which premiered over 40 years ago, made an appearance at the Farrah Fawcett Foundation benefit event in Beverly Hills, according to Daily Mail.
Smith looked radiant and ageless in her ivory blouse and beige slacks which were paired with pointy nude pumps, looking elegant as ever. Among the other guests were Eva Longoria, Melanie Griffth, Alana Stewart, and Carole Bayer Sager.
Fawcett, who lost a cancer battle in 2009, was Smith's co-star during the first season of "Charlie's Angels." Her best friend, Alana, 73, started the organization two years before her death to help those who have HPV related cancer.
"Charlie's Angels" focused on three spies who worked for Charlie Townsend, hence their group name. She played Jill Munroe on the series and was later replaced by Cheryl Ladd. Smith was the only angel who portrayed the lead role, Kelly Garrett, in the series from start to end.
After the series, Smith ventured into fashion design for K-Mart, which she continues to do.
Smith recently shared with "Amazing Wellness" that her little granddaughter, Bea, inspired her to stay healthy.
"I do realize with two-year-olds you need to be in good shape -- your knees, your back, everything -- because they're everywhere. There's something exciting about it that makes me say, 'Hey, I better work out because I've got to run after her.' And I do. So she's a plus," says the former actress.
She also shared that diet and exercise are critical factors in maintaining a healthy lifestyle. She includes raw fruits and vegetables, and organic meat in her daily meals, and does circuit training with weights and Pilates.
Another thing which keeps the star blooming is her relationship with husband, Brad Allen, who is a pediatric heart surgeon in Chicago Illinois. They were wed in 1997 and has been strong and healthy since.
Before her marriage with Allen, Smith has had three marriages. Her first was with a '60s famous actor, Roger Davis, in 1968. After their divorce in 1975, she met another actor, Dennis Cole, three years after, but their marital life only ended in yet another divorce in 1981.
The same year, Smith remarried to a cinematographer, Anthony B. Richmond, whom she had two beautiful children with, Spencer and Gaston. In 1989, the couple decided to part ways.
Despite her many failed relationships, Smith never gave up on love and finally found it in Allen. Today, the two celebrate 22 beautiful years together in love.
Please fill in your e-mail so we can share with you our top stories!