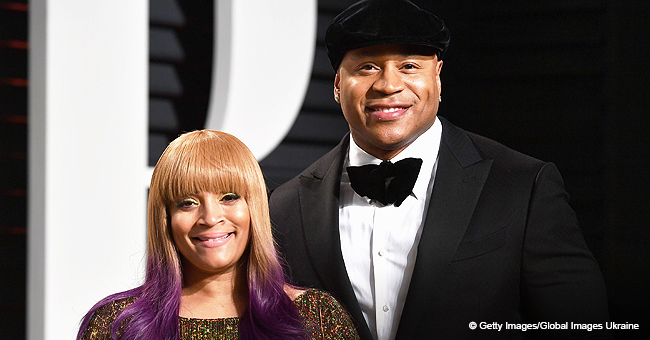 LL Cool J & Wife Simone Team up to 'Battle Cancer like a Boss' after Her Battle with the Disease

LL Cool J and his wife Simone I. Smith, have joined forces on a new campaign with American Cancer Society, "Beat Cancer Like a Boss."
Rapper LL Cool J and his wife of 24 years, Simone I. Smith know the harrowing battle of fighting cancer first hand.
The celebrity couple is participating in a new campaign with the American Cancer Society to help and inspire families and patients with the dreaded disease.
"How did my wife Simone beat cancer? Like a boss."
A FRIGHTENING DIAGNOSIS
In 2004 LL Cool J and wife of 23 years Simone received the terrible news: Simone had cancer.
She was diagnosed with a stage III rare type of bone cancer called chondrosarcoma, but despite the dire prognosis, the mother of 4 was determined to fight for her life.
FIGHTING HER CANCER "LIKE A BOSS"
Since chondrosarcoma is resistant to chemotherapy and radiotherapy, the only treatment is surgery to remove the affected tissue and intensive therapy.
Simone underwent a 15-hour surgical procedure to remove a tumor in her right tibia, but 15 years after her diagnosis, she is cancer-free.
"Boss is battling cancer my finding your inner strength. Cancer left its mark, but it couldn't beat the boss within."
IT TAKES A FAMILY TO FIGHT CANCER
Simone admits that her first reaction when she was diagnosed was fear and disbelief, but that her husband and her family's support were fundamental to her recovery:
"I was in utter disbelief when I received my stage III diagnosis, but what I quickly learned with the support of my husband and family, was that cancer was not something that I had to let consume my inner being or personality."
LL Cool J and Simone Smith share four children - Najee, Italia, Samaria, and Nina. The family is determined to share their testimony with other families battling cancer.
Simone designed a range of jewelry featuring her signature A Sweet Touch of Hope lollipop pendants as a symbol of her cancer journey.
"With the help of ACS and a few friends, this campaign was created to empower women to lean onto their support system and tap into their strength to 'Beat Cancer Like a Boss,' a message I carried with me throughout my journey to recovery."
LL Cool J, who interrupted his career to support his wife through her battle with cancer is now an ardent activist, determined to empower others living through similar experiences.
FIGHTING THE GOOD FIGHT WITH ACS
Simone I. Smith and her husband, LL COOL J are not the only celebrities participating in the American Cancer Society campaign.
Musicians Mary J. Blige, Remy Ma, Jhene Aiko, Jordan Sparks, and Salt N' Pepa also participate, featuring in the campaign's video and sending messages of strength and empowerment to cancer patients and their families.
Simone designed a range of jewelry featuring her signature A Sweet Touch of Hope lollipop pendants as a symbol of her cancer journey. She has pledged a portion of every sale of any piece of her extensive jewelry collection to help fight cancer.
The American Cancer Society is striving to alert members of the African American community, which has the highest death rate and lowest survival rate of any racial or ethnic group for most cancers in the United States.
Please fill in your e-mail so we can share with you our top stories!