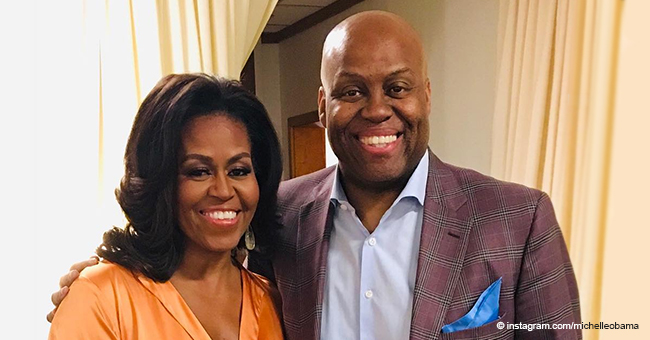 Michelle Obama Message to Her Brother Craig on His 57th Birthday
Michelle Obama took to Instagram on Sunday and sent a touching message to her "protector" on his birthday.
The former first lady's brother, Craig Robinson turned 57-years-old on April 21, and Michelle wanted to make sure he knew how loved he is with a thoughtful post.
"Happy birthday to my big brother, Craig, who's always been by my side whenever I've needed him," Michelle began her post.
The 55-year old spoke of Graig's devotion to his wife and children while his caring nature always made sure those around him felt loved. "So today, I want him to know he is too. Have a great day," Michelle added.
Craig may not be as famous as his sister, Michelle Obama but became successful in his own right and more importantly; he plays an essential role in Michelle's life.
Throughout Michelle's bestselling memoir, "Becoming," she made mention of the type of man her brother had become and what he means to her. "You have been my protector since the day I was born. You have made me laugh more than any other person on this earth," she wrote.
To Michelle, Craig is the "best brother a sister could ask for" and he always looked after her before himself as he said:
"She played sports with me, rode bikes with me. She got to do everything I got to do. We were friends and playmates growing up. To the point, my mom said, 'You got to stop worrying about your sister. She can do stuff on her own.' I would make sure she was included or taken care of before I can start enjoying myself."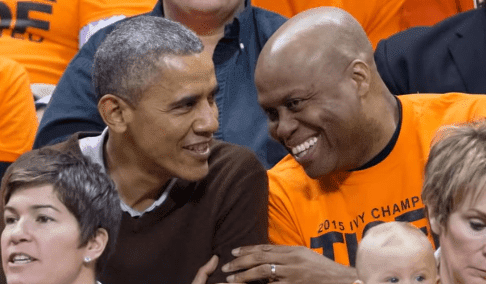 Barack Obama and Craig Robinson share a moment during a basketball match. | Source: YouTube/Good Morning America
Their mother, Marian Robinson played an essential role in their development while growing up and consequently, the people they became.
From a young age, Marian pushed Craig and Michelle to excel and gave them workbooks to practice their academic skills at home. She also taught them the importance of self-discipline and a strong work ethic. "If we had a chore, we had to do it right," Craig added.
Marian may not have been one for coddling, but she does have a favorite. She passionately loves both her children, but she has an extra special bond with Craig.
It doesn't seem to bother Michelle all that much as she has even made jokes about the funny times it became apparent as she told Good Morning America, "I am the First Lady but my mother is like, 'When is Craig coming?, and I'm like, 'I live in the White House. What more do I have to do?'"
Craig completed his Ivy League education at Princeton University and became two-time Ivy League Player of the Year before he graduated with a B.A. in Sociology in 1983.
The 57-year-old spent much of the 1980s playing professional basketball until he temporarily traded the world of sports for the finance sector during which he became a bond trader and the vice president at Morgan Stanley Dean Witter during the 1990s.
He never really lost touch with the basketball world and decided to return where he currently serves as the vice president of player and organizational development for the New York Knicks.
On a related note, Michelle kept the sweet messages coming when she recorded a touching video dedicated to Beyonce with regards to her newly released documentary, "Homecoming."
Please fill in your e-mail so we can share with you our top stories!