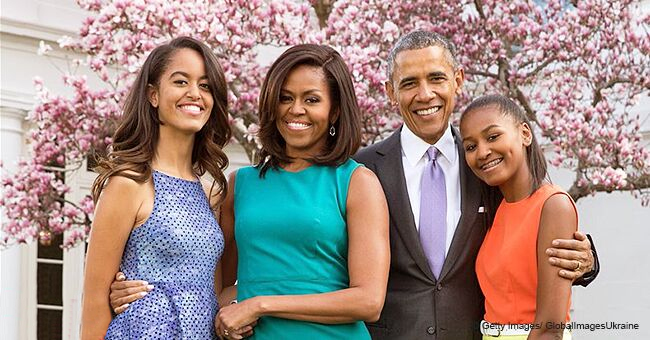 Barack Obama Shares Family Photo and Warm Easter Message
Former President Barack Obama shared a lovely picture of his family alongside an Easter greeting encouraging people to "recommit to love." In return, he got a heartwarming flock of replies from fans and followers asking him to come back to the White House.
Barack Obama has made it tradition to salute the country he led for eight years in every special and celebratory occasion. So, on Easter Sunday, he took to social media to wish "all who celebrate" a "Happy Easter, from our family to yours."
The 57-year-old took the chance and extended an invitation "on this day of rebirth and renewal," for the country to "recommit to love and serve our brothers and sisters, especially those in need, in every way we can."
In the photo, Barack posed with his wife, former first lady Michelle Obama, their daughters Malia and Sasha, and their dogs Bo and Sunny, while standing in front of a fully-blossomed cherry blossom tree.
Obama, smiling in between Michelle and Sasha, wore a grey suit with a lavender tie. The former FLOTUS rocked a turquoise dress, while Malia went for an electric blue short dress and Sasha choose bright colors for her shirt and skirt combo.
Fans and followers replied to the former president's tweet with equally heartwarming— and some funny— reactions.
One user wrote:
"What an amazing man, woman, and family. We miss your love, light, intelligence, warmth representing this country. So sad to go from this amazing group of people, to what is in the white house now! Know you are greatly loved and missed!!!"
And others used gifs and pictures to express their feelings:
Prior to his easter tweet, Obama made sure to address the tragedy of the Sri Lanka attack that took place the same day, taking the lives of more than 200 people and leaving over 500 injured.
Meanwhile, President Donald Trump took the chance to both wish the people a Happy Easter and boast about the accomplishments of his administration.
He stated that the couldn't be happier "because your Country is doing so well, with an Economy that is the talk of the World and may be stronger than it has ever been before."
And although his supporters saw the Tweet in a positive light, other Twitter users took offense about the fact he "made the commemoration of the resurrection of Christ all about the imaginary good job he's doing," as one enraged user wrote.
On the first family agenda, Trump and first lady Melania participated in the traditional Easter Egg Roll at the White House, where over 30,000 attendees enjoyed of several activities like egg and cookies decoration station, egg hunt, costumed characters and even had the chance to send letters and postcards to the troops.
Please fill in your e-mail so we can share with you our top stories!