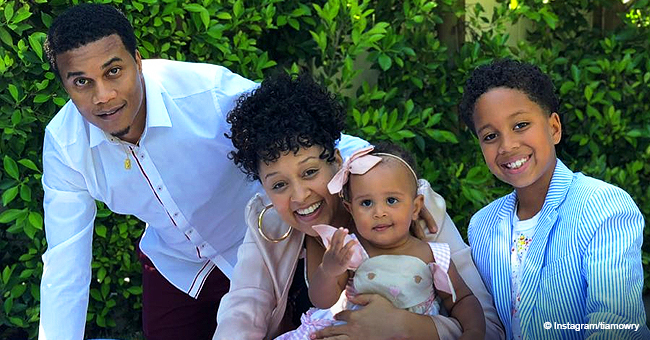 Tia Mowry and Husband Cory Hardrict Pose with Their Kids in Easter Pics
Tia Mowry and her lovely family put on their best Sunday clothes for Easter, and before delving into the celebration, the child star made sure to have everyone pose for a family portrait.
Tia Mowry and Cory Hardrict's beautiful family stole hearts all over Instagram after the 40-year-old actress shared pics from their Easter Sunday garden celebration.
In the shots, the couple posed alongside their children, Cree, 7, and baby Cairo Tiahna, 11-months.
They all looked dapper, wearing their best clothes while laying together on a white blanket on their home's garden. Mowry, always the fashionista, rocked a black dress with a flower print, and a pink jacket on top. She added golden hoop earrings and a matching necklace to the look.
Cory wore a long-sleeve white shirt and burgundy pants. Cree looked like his father's twin in a striped blue pantsuit, and finally, Cairo donned an adorable pink dress with a bunny on the front and a matching headband.
"#happyeaster from #thehardricts," Tia captioned the family pic.
She also shared a snap that features only her and the kids, and added,
"#cairo and #cree It took a lot of work to get you both here, and man am I glad I never gave up. #God you are faithful."
FANS' REACTIONS
The photos received a wide array of comments from fans, who made sure to wish the Hardricts a happy Easter while gushing about how lovely they are together.
"That baby is her fathers twin..check they Smile..awww Happy Easter," wrote one user.
Another added, "So cute. Happy Easter! also, I notice, Cairo has her father's eyes and Cree has Tia's."
And a third one pointed out, "Beautiful Family the Hardricts are always so lit and full of style I love it, Happy Easter to the Hardricts."
ANOTHER BIG CELEBRATION
Before the Easter celebration, Tia and Cory were busy commemorating another special occasion in their lives, as they celebrated 11 years of marital bliss.
The couple has been together for 20 years, as they dated for one decade before finally tying the knot in 2008.
"I love you to the moon and back! I love the life we've created together, and we are just getting started!," Tia captioned an Instagram picture with Cory to mark the occasion.
The former "Sister, Sister" actress recently revealed to US Weekly that she's done having kids and there are no plans for baby number 3 to join the family. "No! I am done! Done, done, done! For real," she said.
For now, the happy couple is enjoying their time with the kids, watching little Cairo daily achievements and Cree taking on his duties as a big brother. Asked what she enjoys most of being with the kids, Mowry replied: "cuddling in bed and watching TV."
And added:
"I don't get to do that too much when I'm working, and I work a lot. To just be able to spend time with my children and hung up on them and love on them, squeeze them, and my husband is right there, and we're together. Simple things are the best for me."
FAMILY FIRST
Tia and her twin sister, Tamara Mowry, always had the family as their number one priority. So, now that they're both working moms, there's nothing better for them than reuniting and watching their kids play together.
"Family is really important to us. To be able to spend time together as a family with the kids, it's really beautiful. I'm grateful. It's everything," Tia stated.
Like Tia, Tamera also believes her family is complete. She shares son Aden and daughter Ariah with Adam Housley.
"Usually, this is the time when you think about having another child," the "The Real" co-host told US Weekly when Tia was still pregnant with Cairo. "But I'm done. Done, done," she concluded.
Please fill in your e-mail so we can share with you our top stories!