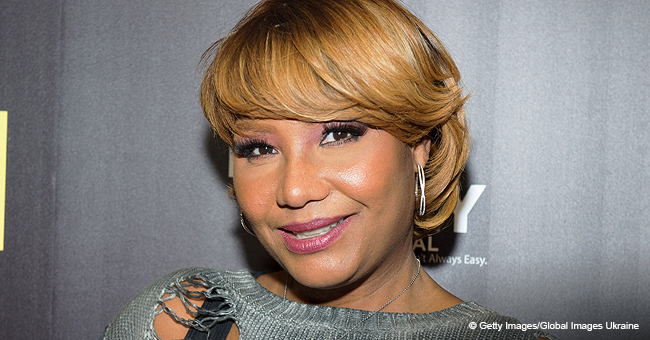 Traci Braxton's Tribute to Her Grandson Who Just Turned 1 (Photos)
Traci Braxton's first and only grandson, for now, just celebrated his first year of life. The singer and reality star couldn't let the occasion pass without celebrating with her fans, as she posted a series of cute pics recounting the baby's life until now.
Traci Braxton can't stop gushing about her adorable grandson, who recently turned 1-year-old.
To commemorate, the 47-year-old took to Instagram and shared a series of pics that show the boy from his newborn days, to a more recent pic where he's rocking a formal vest.
"Happy 1st Birthday day "Mann" aka Jr. jr. , Kev 3, K3, Trippy, Ham....... Dutchess Aka Bubbie you light up my life," Traci captioned the post.
Fans of the "Braxton Family Values" star quickly filled her comment section to wish the boy a Happy Birthday and gush about how cute he is.
"Awwh, he's a handsome little man. Time goes by so quickly," wrote one user.
Another added, "Happy birthday K3 wit him lil handsome self."
And a third one said,
"Doesn't feel wonderful being A Grandma? The Absolute Best Feeling In The World, Happy Birthday baby boy."
Kevin III is the son of Traci and her husband's only son, Kevin Jr., and his girlfriend Olivia.
The young couple, who were once featured on the Braxton's reality show, kept Olivia's pregnancy a secret from Traci for the first months, and after they finally told her, she was both excited and mad at them.
However, Traci had only one request for her son. Her grandson would have to call her "Duchess."
During a March 2018 interview with 'theGrio,' Traci explained to host Natasha Alford why she would call herself a Duchess once she became a grandmother, saying:
"My sisters and I…when we were younger, we said if we ever have kids, and our kids have kids, our names would be 'Duchess.' That's royalty, that's what they call the Queens when they have grandkids. So, I'm royalty."
Proud mom Olivia also shared a heartfelt message for her boy on Instagram. She shared an adorable pic of the boy donning a blue cape with a red number 1 on it, and captioned it:
"My baby is 1 today!! Words can't express how blessed I am to be your mommy. I knew from the moment I had you that you would change my life and make mommy 10x better! I love you so much Fat Fat. Happy 1st Birthday."
Kevin Surrat Jr, the boy's father, seems to be taken some time away from social media, but he surely gave his son a lot of love face to face.
Please fill in your e-mail so we can share with you our top stories!