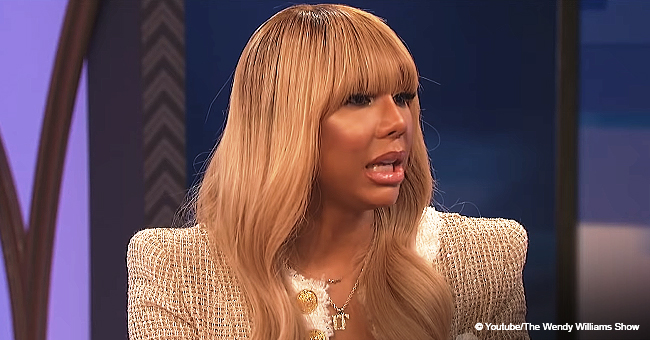 Tamar Braxton Slammed for Saying She's 'Drained' & Won't Attend Niece's Funeral
Tamar Braxton angered fans when she revealed she "don't have time" to go to the funeral of her niece who passed away recently. In the same breath, she spoke about her show and upcoming performance.
The "Braxton Family Values" star is mourning alongside her sisters, and more so her brother, Michael Conrad Braxton Jr., whose daughter Lauren Braxton just passed away. Tamar's video response to the situation is found below.
Braxton Jr.'s daughter succumbed to a heart issue at the age of 24. In response, Tamar wrote a post saying," R.I.P to my amazing niece Lauren 'Lo Lo' Braxton. I'm still in disbelief and so very heartbroken."
Yet Tamar's mourning with her family may only be up to a point. In an Instagram live video, the star revealed that she was "drained" from recent events and may not attend her niece's funeral.
It's unclear whether it's from her "Welcome to the Dungeon" tour with Kandi Burruss or from dealing with her niece's death, or both. In the view of her fans though, neither is an excuse to miss the funeral.
She explained:
"I don't want my sisters or my family to get upset with me, but the things that's been going on — this is the first time that anybody in my family has passed. Nobody tell you about going to the damn funeral. I don't have time going to the funeral."
According to People, one fan told the 42-year-old she was "wrong for not supporting [her] brother." She encouraged Tamar to consider if it was her daughter she had lost and called her self-centered.
Another follower was more blunt saying, "Get..your [expletive] up and go to the funeral for 2 hours then get back in your bed. I'm not hearing this excuse."
Others called Tamar out for still performing her show even as she planned to sit out her own niece's funeral. They claimed the singer was focused on money and fame more than family.
In response to the backlash, Tamar posted an Instagram PSA that said: "Please don't tell people how to heal from something you've never been through."
Her caption included a lengthy message about allowing people to grieve in their own way due to differences among us. In comparison, siblings Toni, Traci, Towanda, and Trina are all expected to attend the funeral.
A family spokesperson released a statement via Entertainment Tonight which read:
"We ask that you please respect the Braxton family's privacy in this time of sadness and loss."
Another event that left the mom of one emotional was when she was nominated for elimination on "Big Brother" in February 2019. According to Kato Kaelin, the head of the household, Tamar might want to see her son.
At that, Tamar teared up as she told Kaelin and the rest of the case that her son Logan Vincent Herbert was "off-limits to everybody." As a single mother, she said, she just wants a better life for him.
Still, she said she didn't want to go back to him before it was the time to do so. She remained in the "Big Brother" home after the episode. Like most others, we hope she is also able to pull through for her family and be there to support them at the upcoming funeral for her niece.
Please fill in your e-mail so we can share with you our top stories!