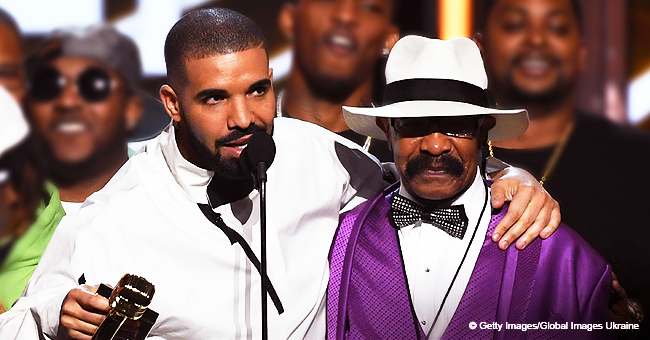 Drake's Dad Talks about the Rapper's Relationship with Son Adonis
Rapper Drake's father, Dennis Graham, opened up about his son's relationship with his baby son Adonis.
Dennis Graham gave fans an insider's view of rapper Drake's relationship with his tiny son, Adonis.
Graham revealed that Drake is a doting father, although he does not spend much time with hi son, who lives in Paris. France.
, DRAKE'S SON WITH SOPHIE BRUSSAUX
17-month-old Adonis lives with his mother ormer French adult-film star Sophie Brussaux, with whom Drake, 32, had a fleeting relationship.
"This is brand new. The baby is only 17 months. He hasn't had a lot of time [with him], but the baby loves him.I've seen them interact together, and it's beautiful," Graham revealed.
Drake has been supporting the former porn star financially since the birth of their son.
DRAKE'S BLUE-EYED BOY
Drake has spoken enthusiastically about his baby son, whom he describes as "beautiful."
"[He has] crazy blue eyes — baby blue eyes. He's already in the pool shooting the basketball," Drake said.
DRAKE ON CO-PARENTING ADONIS
Drake, who learned of his son's imminent arrival through Brussaux's attorneys, has been working on his relationship with Adonis' mother.
"I am a single father learning to communicate with a woman who, we've had our moments. I do want to be able to explain to my son what happened. But I don't have any desire for him to not love his mother. I don't ever want the world to be angry at his mother. We have found ourselves in a situation and we are both equally responsible. Now, I'm just really excited to be a great father," he revealed.
GETTING TO KNOW HIS SON
During his recent tour of Europe, Drake spent time with his son, and even invited Brussaux to his Paris concert.
Brussaux posted photos on Instagram from her night out at Drake's concert where she enjoyed the show from a VIP area.
Drake has been supporting the former porn star financially since the birth of their son.
DRAKE'S FATHER SUPPORTS R.KELLY
Drake's father, musician Dennis Graham, launched a controversy during an interview he gave promoting his new single when he expressed his support of accused sex offender R.Kelly and "Empire" actor Jussie Smollet who reported a false hate crime.
Graham said that he considered R Kelly "a good friend," and is "100%" with him.
"I wish him the best. I hate that it's happening to him. There's a reason why women come out after the fact. He has my support 100%."
He was equally supportive of "Empire" star Jussie Smollett, who faked a hate crime against himself with the help of two Nigerian men.
Please fill in your e-mail so we can share with you our top stories!