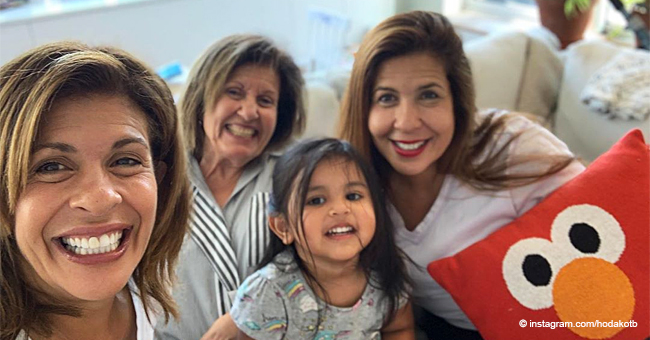 Hoda Kotb Shares a Touching Mother's Day Card From Her Two Daughters
Hoda Kotb's Mother's Day surprise from her two daughters, Haley Joy, and Hope Catherine caused her to react excitingly.
Hoda Kotb will easily win the mother of the year and the happiest person on earth award. She is ecstatic about having two children — Haley Joy and Hope Catherine on Mother's day; something she never thought would happen.
A BEAUTIFUL CELEBRATION
Kotb started the day set apart to celebrate mothers awesomely. Her partner, Joel Schiffman, and her daughters surprised her with a bouquet of roses and a handmade card.The card has the words "Happy Mother's Day Mama! We came from mama's heart. Love Haley + Hope."
The words touched the television host to her core, and she wrote alongside a picture of the roses and card on Instagram "Melting," with heart emojis.
Kotb's followers shared in her joy, wishing her a " Happy Mothers Day celebration," and referring to her as "A great and loving mum." Other comments described the picture as "So beautiful" and "So sweet and precious."
THE MORE THE MERRIER
The mother-of-two was not the only one to celebrate the day. Her "Today" co-hosts Jenna Bush Hager, and Savannah Guthrie also joined in on the celebrations. Bush Hager shared a photo of herself, mother, and her maternal grandmother, who passed last Friday on Instagram.
The former first daughter and mother-of-two wrote that she is lucky to have the same name as the woman who taught her to slow down and appreciate life.
Guthrie shared a picture of her two children and mother, and she wrote alongside it that the woman who gave birth to her is the best mum, grandma, and best human being. Other celebrities equally joined in the messages. Alexis Ohanian shared a picture of his daughter — Olympia.
He wrote that he met Serena Williams four years yesterday in Rome, and now, the three of them will go on adventures together and is celebrating all the women in the world.
A BOND OF A LIFETIME
Before Mother's Day, Kotb was celebrating something even more special. The 54-year-old called in on "Today" on Friday to share some news on her daughters. The "Fourth Hour" host told her fellow hosts that her 2-year-old embraced the role of a big sister quickly. She said it fills her with joy that they will always have each other to count on as they journey through life.
Hoda has a friend like that — Kathie Lee Gifford and the two have been together through thick and thin. Gifford, a former "Today" host, visited her friend and baby Hope recently, and she cuddled with the little girl.
Kotb shared a picture of the visit last Wednesday, and it was apparent she was glad to have her friend around, and despite the distance, their bond is still active.
Please fill in your e-mail so we can share with you our top stories!