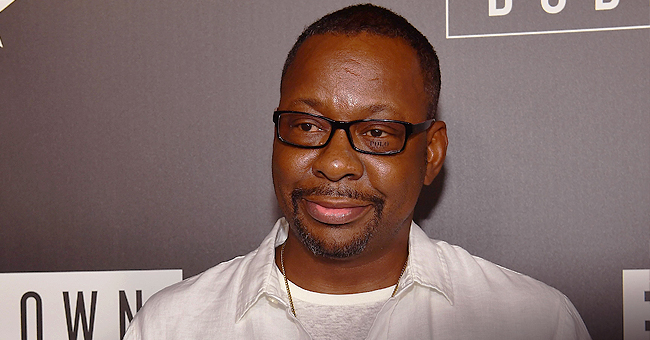 GettyImages
Bobby Brown's Wife Poses with Their 3 Kids in Sweet Mother's Day Pic (Photo)
New Edition singer Bobby Brown recently took to Instagram to honor his wife, Alicia Etheridge, on Mother's Day. He shared a beautiful pic of her and their three kids, referring to Alicia as "his queen."
Bobby Brown's family life is filled with joy ever since he married Alicia Etheridge in 2012.
Despite the singer's tumultuous past with addiction, his torrid romance with late singer Whitney Houston, and the terrible loss of his daughter Bobbi Kristina, he has managed to move on thanks to his youngest kids and his gorgeous wife.
"My happiness definitely comes from us falling in love. She's my peace. She's my muse. She's my everything."
To celebrate that, and honor Alicia, he shared a family pic on Instagram of her and their three kids: son Cassius, and daughters Bohdi and Hendrix, on Mother's Day.
In the shot, Alicia is wearing a white jumpsuit with a floral-patterned light coat and sunglasses. Cassius rocked a long sleeve grey t-shirt, camo tie, and khaki pants, while Bohdi and Hendrix wore matching pink dresses, as they all have big smiles for the camera.
"My QUEEN. Hope all you moms enjoyed the weekend. Love you all," Brown captioned the post.
Fans filled the comment section gushing about the singer's beautiful family, like one user who wrote:
"Those are your children Bobby....glad you got a second chance...stay grounded...beautiful Fam."
Another added, "So happy for you, Bobby- Such a beautiful wife & kids!! Thx for Mother's Day, wish!!"
And a third one agreed, "Beautiful queen, beautiful Two Princesses, and one King. Beautiful family, Mr. Bobby Brown."
RAISING HUMBLE KIDS
Bobby and Alicia, who is also his manager, kept their marriage and family out of the spotlight for a long time. In 2018, they worked closely with BET to release "The Bobby Brown Story," a biopic about the R&B superstar which revealed intimate details about his career and life.
In December that same year, the couple and their kids made their first ever appearance on TV, when they visited "The Real" to talk about their Christmas traditions and the values they're teaching the kids.
Bobby, who explained he grew up in an unprivileged family, said he tries to provide his children with the things that he never had.
"My babies are totally spoiled. I spoil them. My wife's like, 'You've got to stop. You really have to stop,'" he said on the show.
Alicia then explained that as a way of keeping the kids humble and aware of their privilege, they have developed a tradition where they clean out their toys room, chose those that they don't need anymore, and donate them to less fortunate children.
THE SECRET TO A SUCCESSFUL MARRIAGE
When Bobby and Alice visited Essence's "Yes, Girl!" podcast, they dished on the secret to their successful union, stating that the pillar of their marriage and family relies on faith.
"We believe in the same thing. We're spiritual. We don't choose a religion, and we choose to believe in a higher power," Brown said.
And Alicia added: "We walk in gratitude, that's so important for us. It's really nice when you find a partner that you're in sync with on that, anything else just stops the struggle."
After everything he has faced in his life, Brown says he's found his "peace" with Alicia. He stated:
"My happiness definitely comes from us falling in love, me finding real love, me finding what I needed in life to transition to the next level of the man I'm going to be. She's my peace. She's my muse. She's my everything."
Please fill in your e-mail so we can share with you our top stories!