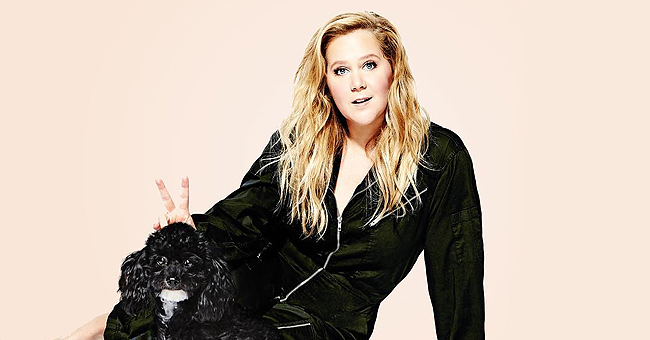 instagram.com/amyschumer
Amy Schumer 'Back' on Stage Weeks After Giving Birth to Baby Gene
On May 5, comedienne and actress Amy Schumer welcomed her first child with husband Chris Fischer. The star wasted no time getting back on stage a few weeks later!
On Sunday night, just two weeks after giving birth to her son Gene Attell, Amy Schumer, 37, was seen back on stage. She was performing a stand-up routine for the first time on stage after giving birth.
She titled the Instagram post shared on Monday: "I'm back!" Schumer also captioned the image revealing that the photo was taken by fellow comedian Jon Laster.
In the picture, the actress held a microphone in one hand while gesturing with the other. For her appearance, she wore a black and orange, long-sleeved, V-neck mini dress.
She and her husband, Chris Fischer, 39, announced the birth of their son on Instagram the day after she gave birth. Schumer shared a hospital photo of herself and Fischer with their newborn son.
For her pregnancy announcement, Schumer also teased the Royal couple by photoshopping her and her husband's face over an image of the Sussex's. She also announced her pregnancy a few days after the Royal's did.
While she was pregnant the comedienne released a Netflix comedy special called "Growing." In it, she took another jab at the Royal couple by joking about Meghan taking the limelight off of her by being pregnant at the same time.
She only revealed her son's name two days after the birth announcement. Included in the announcement, Schumer shared a photo of Gene being carried by his father.
Lucky fans have had the pleasure of seeing the actress document her journey of being a new mother. On Mother's Day, she took to Instagram and posted a photo that featured her grimacing while sitting in a bathroom where she was hooked up to a drip.
She captioned the image: "Milf alert 1 o'clock." Her sister-in-law, Molly Fischer, was featured in the picture holding Gene.
Gene's middle name is thought to be a reference to fellow comedian and the actress' friend, Dave Attell. In early May, the star invited Schumer to perform with him at his show at Caroline's in New York City in January.
Please fill in your e-mail so we can share with you our top stories!