Carrie Underwood 'Can't Cry Pretty' in Throwback Pic on 14th Anniversary of 'American Idol' Win
Carrie Underwood took to social media to reminisce about her 2005 American Idol win by posting a picture taken at the moment of her victory. 
The famous singer rose to extensive acclaim decades ago after she won "American Idol," a prominent American singing competition that has produced many stars like Kelly Clarkson who won the inaugural season of the show and has since remained in the spotlight. 
To mark the 14th year milestone, Underwood took to her Instagram story to share an old picture of herself. The photo was taken way back when they announced her the winner of the fourth season of the show.
The hilarious picture has the singer crying tears of joy while the audience applauded her. Even back then, Underwood had a distinct fashion sense as she wore a boho dress that had a deep "v" neckline. With her hair styled to fall in waves down her back, she looked like the perfect country singer. 
The mother of two posted a heartfelt and equally humorous message to accompany the picture. Hinting at her world-famous hit song "Cry Pretty", she wrote:
"14 years ago today… my world changed. It's true when I say that 'you can't cry pretty'."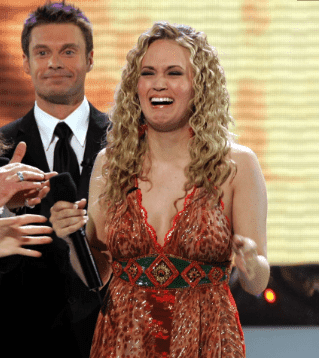 Every avid fan of Carrie Underwood knows that her now-fledgling career didn't kick off until her "American Idol" win. Her soulful voice elicited a myriad of emotions from the audience and earned her a massive fan following which called themselves "Carrie's Care Bears."
She won almost every week the show aired, and the judges all found her admirable. With all of that, it was no surprise when the host announced her as the winner.
The 36-year-old recently made a comeback on the singing competition by giving a fantastic rendition of her popular single, "Southbound," and as always, she left the audience spellbound.
It was also during the appearance that she revealed her biggest fears back when she was announced the winner of the extremely competitive show. According to her, she was plagued by jumbled thoughts of "being horrified, scared, nervous, excited," as she stood there, absorbing the victory.
It is beautiful to find that the stunning beauty has maintained her place in the spotlight despite being married and becoming a mother of two. 
Her husband of nine years, Mike Fisher, couldn't be more proud of her, and this shone through as he shared a photo of Underwood breastfeeding their little child while also getting her hair styled. "The boys and I are blessed!" he wrote, exuding great pride.