Amy Schumer Shares Heartwarming Photo with Husband & Baby after Giving Son His 'First Bath'
The actress and comedian once again keeps it real when it comes to motherhood, sharing a not so glamorous picture of her and her husband after giving Baby Gene his first bath 20 days after his birth.
37-year-old Amy Schumer is not your average celebrity when it comes to her social media activity. Always the irreverent, the "Trainweck" star is determined to bring down the false notions about celebrity motherhood one post at a time.
While anybody who has been a parent knows how messy things get when is time for giving a newborn a bath, this is something that we rarely see on most celebrity mother's social media feed, and Schumer wanted to be honest about it.
FIRST BATH, NO PROBLEM
On May 25, Schumer took to her Instagram Stories to share a snapshot of herself with her baby in arms and husband Chris Fischer besides her, both wearing homely clothes and visibly wet as an aftermath of Gene's first bath at home.
"First bath, no problem," Schumer captioned the temporary post, while her face gave us an idea of how much of a struggle her first –successful- attempt at giving her little bundle of joy a bath.
Gene was pretty comfortable covered in a warm towel after being dried off, with his mother feeding him a bottle of milk. He looks completely unaware of the challenge it meant to get him fresh and clean, but we know that the struggle is real.
IMMUNE TO CRITICISM
Nothing seems to be stronger than Schumer's will to be as raw and honest about her life as a new mother, and she knows that if she faces backlash about it, it means she is doing it right.
"I've always wanted to be mom shamed!!!!" Schumer wrote in the comments section of a post she made when she returned to the stage for a comedy routine just around a week after delivering her baby, which some people criticized her for.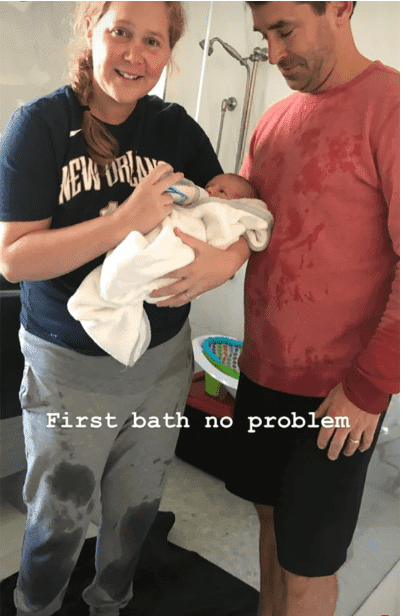 Seemingly immune to the negative comments users aim at her, she opted to send love to the people who went after her for doing her job.
"Sending out love to the moms shaming me for doing standup last night!" Schumer captioned a photo of herself the morning after her stage appearance, still sleepy and wearing breast pumps.
SHE IS SETTING AN EXAMPLE
While she certainly doesn't appear to need anybody to defend her from mom-shamers, many of her celebrity friends have sent her supportive messages celebrating her honesty and sense of humor.
In a recent opinion peace by NBC News, authors Stephanie Ruhle and Julie Brown praised Schumer for her efforts to normalize and make visible the lesser glamorous aspects of motherhood and childbirth.
"Hospital supplied mesh underpants. Industrial-strength breast pumps and a nipple-free nursing bra," the article begins.
"If you're a mother, you know these items well. But I'll bet you've never posted a picture of yourself using them on your Instagram. Amy Schumer has. And we are better for it," they added.
The authors - and fellow mothers – not only celebrated Schumer's honest and detailed accounts of hyperemesis, milking machines, post-partum depression, and her "new mother uniform," but they defended her for returning to work so soon.
FIGHTING DOUBLE STANDARDS
 "She didn't go to the Comedy Cellar just to tell jokes. She definitely wasn't there to party. She was there to work," they wrote.
"Had her husband done the same, he'd be the devoted father, caring for his family by going out to bring home the bacon. I doubt anyone would've asked him who was taking care of the baby while he was away," they added.
"When a career-driven man goes to work, he is a provider. When a working mom does the same, she is a deserter, abandoning her life's true purpose," they continued, pointing out to societal double standards.