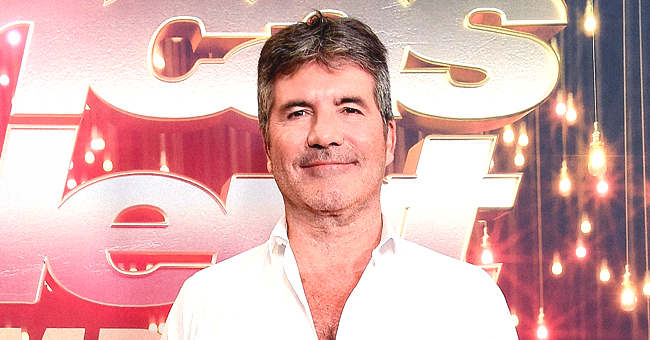 Getty Images
Simon Cowell Sticks out His Tongue in an Adorable New Photo with His Son and Judges
The famous British producer and talent competition judge gave us a glimpse of who he is in real life, when he is not playing the rude guy on TV, fooling around with his co-judges and his 5-year-old son Eric.
59-year-old Simon Cowell, famous for playing the harsh judge on "American Idol," has a softer side, and he often displays it in front of his 5-year-old son Eric, who he shares with girlfriend Lauren Silverman.
Eric has stolen the show every time he has appeared alongside his famous father on TV, and he has helped change perceptions about Simon, who is known for his negative comments toward contestants.
Simon enjoys bringing his son along when he has work on the set, and the child has appeared onscreen in some of his father's shows in recent years.
The father and son were caught in a candid moment behind the scenes during the recording of one of "Britain's Got Talent" episodes by presenter Amanda Holden, who shared a group selfie featuring Simon and Eric sticking their tongues out on Instagram.
"Our fifth judge in the making! @bgt #onlyasmallchairneeded," Holden captioned the snapshot. Holden is also sticking her tongue out, while judges David Walliams and Alesha Dixon appear behind, both smiling at the camera.
Simon is not bringing his son to his job to play, as he has confessed recently, since he cannot wait for Eric to follow his steps and becoming his associate, even if he has to drop school at age ten to do so.
"Listen if I can get him out at ten to come and work for me then I would. I was better off out of school than I was in," Simon told NBC.
"But I didn't have that major stress about homework, because I would just throw it away. A healthy, happy kid is more important than an over-educated, stressed kid," he added.
Sharing his personal views of early education, Simon added that he is against homework, and he plans to encourage Eric to leave school once he turns 16.
"I don't understand why you would want to torture someone to be somewhere they don't want to be but actually want to go out into the real world and make a living," Simon explained.
"Everyone has different views on this and I have been criticized for saying this in the past but I really feel bad for people who are like myself who were told if you don't achieve this by the age of 16, 18, 21 your life is going to be a failure," the media mogul added.
"I just don't agree with that and I would just say to Eric, 'This is what it is, you've got to do it, learn whatever you possibly can, do as you're told and then if you want to leave at 16 you can come and work with me,'" he concluded.
While he wants his son to be happy and do what he loves, instead of pursuing someone else's idea of success, just like Simon did, and despite how proud he is of his son's resemblance to him, he doesn't want Eric to be exactly like him.
This is something he took into account when he had to give his son a name. Initially, he was going to name him Eric Simon, but he dropped that middle name at the last minute not to "inflict" his own name to his beloved son.
Nevertheless, the child is all about his father, and recently channeled him in celebration of World's Children's Day looking like a miniature version of the "America's Got Talent" star.
The child dressed up as Simon and posed for pictures as he "took over" his father's company Syco Entertainment for the day, wearing jeans, an unbuttoned white shirt with the sleeves rolled up, sunglasses, and Simon's iconic hairstyle.
Please fill in your e-mail so we can share with you our top stories!