Marlon Wayans Claps Back at Haters Criticizing His Daughter's Sexuality
Marlon Wayans may be a comedian, but he's also a fierce defender of his children and unleashed that side recently when trolls attacked his daughter's sexuality.
Marlon, who shares 19-year-old daughter Amai and 17-year-old son Shawn with ex-wife Angelica Zachary, took to Instagram on Sunday to show some love for his lesbian child.
In honor of LGBTQ Pride which runs through June, the actor posted a photo of Amai showing off her rainbow-soled sneakers and wrote:
"Happy pride to my pride and joy. I wouldn't change one effing thing about you. Love you to the moon around the sun through the galaxies and back again."
DEFENDING HIS 'PRIDE'
In no time, a simple declaration of unconditional love from a father to his daughter became an avenue for trolls to unleash their venom.
One user commented: "Damn unfollow. Sad [expletive]" and Marlon wasted no time giving him the waving hand "bye" emoji.
Another scolded the 46-year-old, suggesting that Amai is not old enough to determine her sexuality.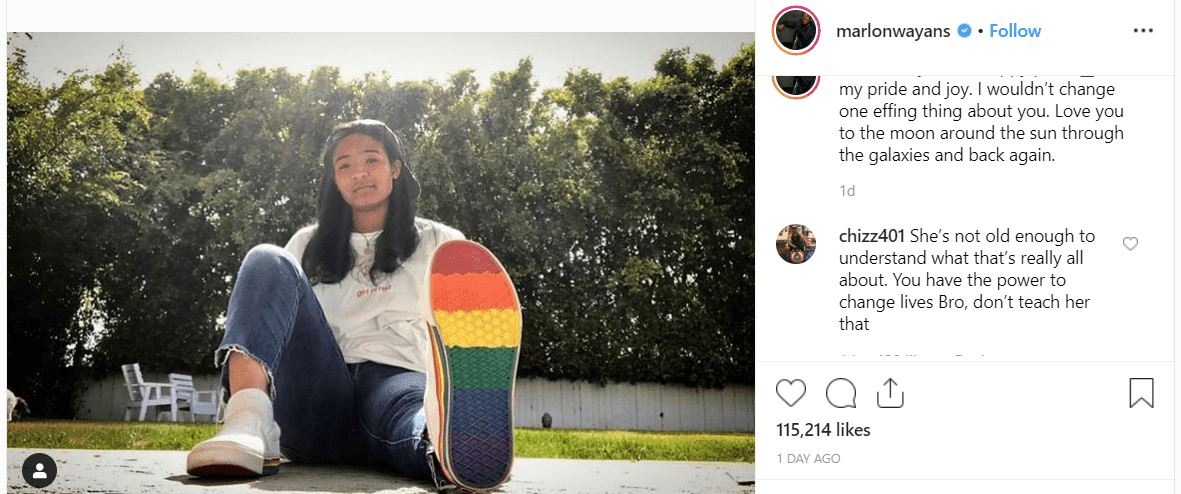 "She's not old enough to understand what that's really all about," wrote the user. "You have the power to change lives Bro, don't teach her that."
"She's 19," Marlon responded promptly. "She's who she is until or until she don't choose different. Love her for her, not what I want her to be."

MARLON FIRES BACK AGAIN
A third person went all out to criticize the "White Chicks" actor for supporting his daughter's "stupid decision."
"You think if you support her you are good??? Being a parent is not about saying yes to everything. No you need to say yes on the good things only," wrote the user. "Now just one question if you really support her would you give up being a grandfather because of this stupid decision that she made because as last as remember two girls can't make a baby (sic)."
"There's technology, and I got the means," Marlon fired back. "So thank u shallow [expletive]. Go hate your own kids."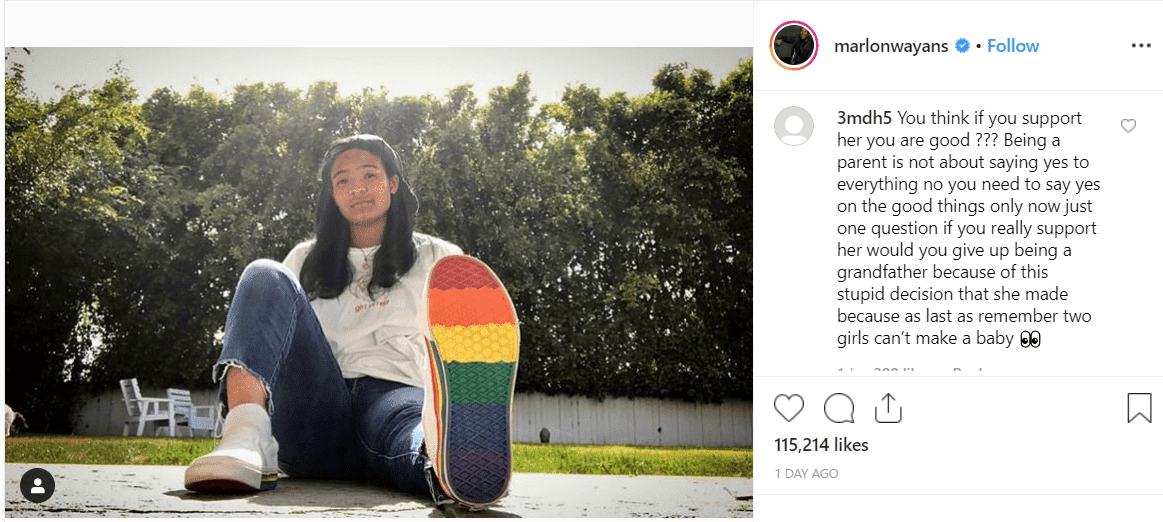 WISE WORDS FROM WAYANS
When one of the actor's fans advised him to erase the negative comments, Marlon took the time to explain why he chose not to.
"I thought of erasing them but I need the world to see the ignorance that still exists. Objective without obstacles is a worthless triumph. We all will someday get to unconditional love. Because of my daughter, I am one step closer. I am not God, I don't judge I just LOVE. And still pray for the haters because I refuse to judge them too I just love."
LGBTQ SUPPORT
The "Scary Movie" star joins a growing list of celebrities who have been celebrating the LGBTQ Pride Month and declaring their love and support for members of the community.
In April, "America's Got Talent" judge Gabrielle Union and her entire family went all out for her stepson Zion at the Miami Beach Gay Pride. The 11-year-old's dad Dwyane Wade was absent at the event but expressed his support via social media.
🏳️‍🌈 LOVE is LOVE, we support you Zion! Dwyane Wade missed attending the Miami Beach Gay Pride celebration with his family. Despite being in Toronto, he sent lots of love to his son Zion Wade, 11, for expressing himself during the festivities! https://t.co/vOZKbxVdfT

— EBONY MAGAZINE (@EBONYMag) April 8, 2019
British Royals Prince Harry and Meghan Markle also highlighted the LGBTQ Pride Month with a social media post while following several Instagram accounts that support the community.