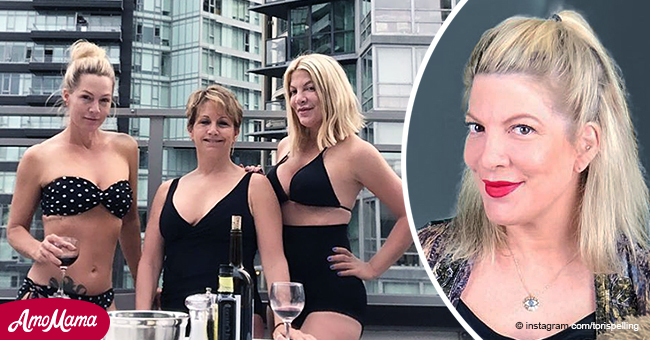 instagram.com/torispelling
Tori Spelling and BH90210' Co-Stars Show off Their Age-Defying Bodies in Black Swimsuits
The actress has been spending quite a lot time with her former co-stars in the wake of a much-expected reboot of the hit TV series from the 90s, and she recently appeared in a swimsuit photo with two of them.
46-year-old Tori Spelling has remained close to the cast of the series that made her famous, "Beverly Hills 90210," on which she played the character Donna Martin from 1990 to 2000, and they are all excited about their upcoming return to TV.
"BH90210" is currently filming, with the first episode of the reboot season expected to air sometime in 2019, and beyond working together on set reprising their iconic roles, its stars have seen a lot of each other recently.
QUALITY TIME
Early in June, Spelling, along with 58-year-old Gabrielle Carteris and 47-year-old Jennie Garth, enjoyed a break from work and choose to spend it in a poolside Sunday dinner, with the three wearing matching black swimsuits.
"Sunday Family Dinner... @jenniegarth @gabriellecarteris @bh90210" the mother-of-five captioned a snapshot from the girls' day out in Vancouver, Canada, posing behind a dinner table in the outside, with tall buildings in the back.
In the image, Garth is seeing wearing a black bikini with white polka dots as she holds a glass of wine. She had her hair up and displayed her toned abs.
Spelling is wearing a two-piece bathing suit with a high waist bottom and let her hair loose, while Carteris, in the middle, wore a one-piece swimsuit.
Earlier on the same day, Spelling posted another picture featuring the trio (plus a cute little dog) posing in the same terrace before they changed into their swimming attires.
"I never got the experience of going away to college after high school ( well I went to pretend college on 90210) but now I get to have these beautiful ladies @jenniegarth @gabriellecarteris as my roomies for the summer!" Spelling wrote.
SHE IS ALL ABOUT BH90210
Spelling's Instagram feed is nowadays all about "BH90210," with the actress sharing pictures from behind the scenes, throwbacks and group portraits related to the series.
She recently took to the social network to give the two latest additions to the show's cast, La La Anthony and Vanessa Lachey.
"Excited to welcome these two gorgeous inside and out ladies to our @bh90210 family! @lala & @vanessalachey I'm so happy amazing mamas and talents will be along for this journey with us. Adore you both!" she captioned a picture of the two.
Most original members of the cast are confirmed to be back for the reboot, including Jason Priestley, Shannen Doherty, Ian Ziering, and Brian Austin Green.
While late Luke Perry wasn't going to be a series regular due to his commitment with "Riverdale," he was expected to guest star as his old character Dylan, but he shockingly passed away in March, aged 52.
HER 46TH BIRTHDAY
Spelling turned 46 on May 16, and apart from celebrating with her husband of 13 years Dean McDermott and their five children, she got together with co-stars Garth and 49-year-old Jason Priestley, who shared commemorative cupcakes.
Despite her busy schedule, Spelling is a devoted mother to Liam, Stella, Hattie, Finn, and Beau, ages 2 to 11.
She recently teamed up with her oldest daughter, Stella, for a cooking competition against Garth and her daughter on "MasterChef Celebrity Family Showdown."
A TV FAMILY OF SEVEN, AND COUNTING
The family is not new to TV, since Spelling and McDermott actually started having children while filming their reality TV series "Tori & Dean: Inn Love," which went on for 6 seasons before evolving into "Tori & Dean: Home Sweet Hollywood," canceled in 2012, around the time of the birth of their third child.
Even when 5 children are certainly a handful, especially for a working mother, Spelling might be considering having at least one more child, to complete an even number, as she told US Weekly.
"I like even numbers [and my kids] keep asking. They all want one more because they want a little baby sister now. But I can't imagine dad being sane if we have one more. It would push dad over the edge. He's doing the best he can!" she shared.
Please fill in your e-mail so we can share with you our top stories!