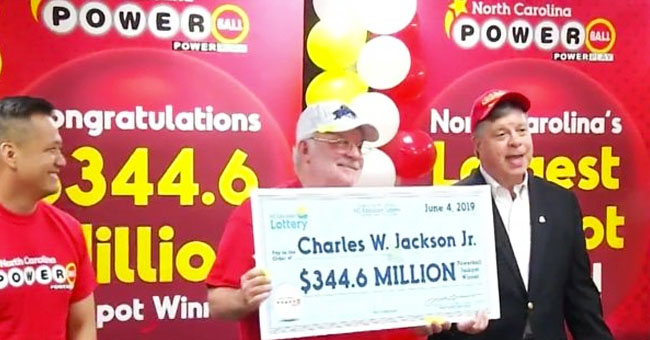 twitter.com/people
Retiree Wins $344 Million Lottery Jackpot Using Numbers He Found in a Fortune Cookie
A Cumberland County man is fast going viral after winning the lottery using predictions from a fortune cookie. Now, the town where he got them is abuzz.
On June 4, lottery officials announced that the winner of a $344.6 million Powerball ticket is Charles W. Jackson Jr. There is no arguing that fortune indeed smiled down on Jackson, who is a retiree and formerly owned a small store.
The 66-year-old retiree purchased the ticket in Hope Mills, and this alone has set the town abuzz as people take a visit to try their luck. After being named the winner of the lottery, Jackson decided to withdraw $223 million, a more significant percentage of his winnings.
Even after deducting the usual tax payments from that, he will still get well over $150 million! Talk about the chance of a lifetime!
Jackson has a big heart and sources report that he has laid down plans to donate some money to charity and also to help his family; he said he would gift his brother $1 million.
The retiree then went on to express great surprise at finding just how much he had won when he initially thought his winnings was only $50,000. He reportedly alerted his wife about the good news and also to tell her that they would have to travel to cash in the winnings even without realizing that he had won all the lottery money.
In excitement, Jackson also disclosed that he had to search the web to ascertain just how much he will earn from the ticket. His wife inquired, but he had been unable to answer with certainty.
The most unbelievable part of Jackson's story is that the winning digits are from a fortune cookie! He explained that the numbers were partially from a fortune cookie he got from a small restaurant in Hope Mills. Surely, they will be getting more visits seeing how famous Jackson's story has become.
"You play to win, but you don't ever expect to win."
Jackson is still finding it very hard to come to terms with his great luck. Even the lottery officials are still shaken about Jackson's win as they explained that it is indeed the largest jackpot ever won in North Carolina involving just one ticket. It is, however, the fifth time a North Carolina ticket will claim a Powerball jackpot.
North Carolina is sure to become crowded soon!
Please fill in your e-mail so we can share with you our top stories!