Watch Kylie Jenner's Daughter Adorably Learn How to Say Her Name & Cousin True's
Stormi Webster is melting hearts all over Instagram after her mom, Kylie Jenner, shared an adorable clip of the toddler trying to pronounce her and her cousin's names. The 1-year-old did a great job while posing for the camera like a professional, following her mom's steps.
Kylie Jenner and Travis Scott's daughter is a star on the making. Not only is she a natural in front of the cameras now, but her charming and adorable personality has fans head over heels for her.
MULTITASKING ON SET
In a clip shared by Jenner last Friday, Stormi is seen rocking a cream-colored onesie embellished with star-shaped pearls and tulle ruffles while sitting next to a flower arrangement for a photoshoot.
In the background, a voice—probably the photographer— can be heard prompting the girl to say her name while Stormi gracefully keeps her smile in place and even gives the camera different angles.
"Can you say Stormi?" the woman asks, prompting a shy smile and mumbling from the toddler, who later repeats the same for her cousin's True name, and her friend's Ayla.
"A for effort baby," Jenner captioned the clip, adding a series of crying and heart-eyes emojis.
FANS' REACTIONS
Fans and friends of the proud 21-year-old mom filled the comment section gushing about Stormi and her cuteness.
John Legend's wife, Chrissy Teigen, raved "Nononononoooo how is she so good at this!!"
Khloé Kardashian added, "She's the cutest," and Scott Disick's girlfriend, Sofia Richie agreed writing "I can't."
"Omg, she's a natural. I'm not crying you are!" pointed out one fan, and another person gushed: "She even changes her pose! How is she so cute? Definitely a Kardashian!"
A HEALTH SCARE
The video comes just a week after Kylie shared with fans her first health scare as a mom.
She took to Instagram stories to reveal that Stormi spent the night at the hospital after an allergic reaction, and although she didn't specify what caused it, Jenner assured her followers that Stormi was doing good after receiving medical attention.
"She had an allergic reaction but is 100% okay now, and we are home," wrote Jenner. "Nothing else matters when these things happen. God bless all the moms with sick babies. I'm sending so much love and positive energy your way."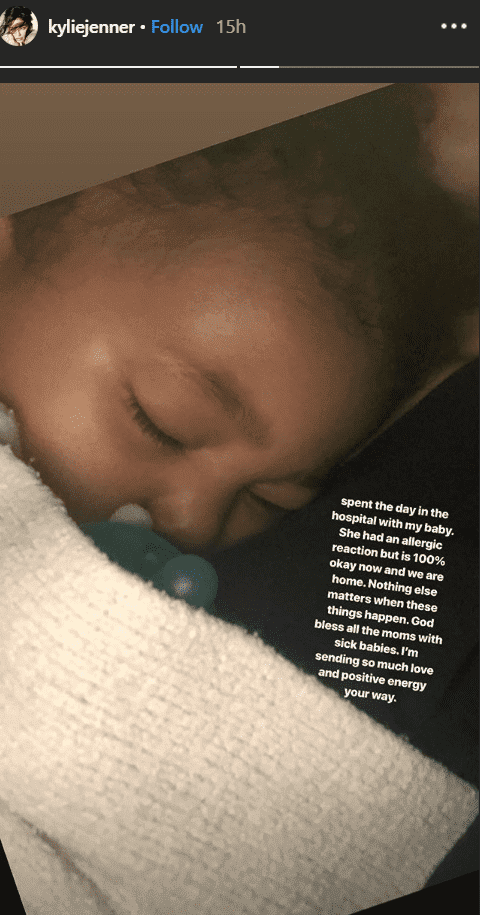 A LIFECHANGING EXPERIENCE
Since welcoming Stormi in February 2018, Kylie says her outlook in life has changed for the better, as she told Interview magazine in March:
"I always knew I wanted to be a young mother. I remember people used to ask, 'Are you ready for this?' And I always knew I was ready, but you don't know what that love and that feeling is like until after you have a child, but I feel like I was definitely made for this and she has changed my life for the better."
Kylie, who was named as the youngest self-made billionaire by Forbes magazine, splits her time in between her mommy duties and her growing business.
So, to make things easier, she recently revealed that she added a playroom at her office so that Stormi can be present at her meetings without getting bored.