Kevin Hunter Reportedly Still Estranged from Son with Wendy Williams After Their Fight
Wendy Williams' son Kevin is still not on speaking terms with his estranged father after the two came to blows. 
Divorces are devastating for families, and especially for the children of the estranged couples who sometimes find themselves compelled to take sides.
Wendy Williams' son Kevin is at odds with his father Kevin Hunter Sr. and their relationship is under a lot of strain at present.
#WendyWilliams' ex claims she's turned their son against him! https://t.co/20Y9v1Dt1e

— Perez Hilton (@PerezHilton) June 9, 2019
KEVIN HUNTER SR. BLAMES WENDY WILLIAMS
Father and son aren't speaking, and Hunter blames Williams for worsening the problem. The final straw came when father and son came to blows and Kevin Jr. was arrested for striking Hunter.
Kevin Hunter Sr. Still Has Beef With Son After Catching Snotbox Fade https://t.co/Byc0UhUea2 Photo: Getty #WendyWilliams pic.twitter.com/bx3Y28GAPu

— HipHopWired (@HipHopWired) June 10, 2019
Hunter has declared that he will not be pressing charges against his son.
KEVIN HUNTER'S ATTEMPTS AT RECONCILIATION 
Hunter has apparently made several attempts at reconciliation with Kevin, but his overtures have been rebuffed by his angry son who can't forgive him for his actions or his attitude towards Williams.
Kevin Hunter still has not dropped charges against his son from fight! ##wendywilliams https://t.co/TvvXK0k6kT pic.twitter.com/Nx6uHZpRAb

— Joy105.com (@Joy105com) June 4, 2019
KEVIN HUNTER'S BLATANT INFIDELITY
Williams has instituted divorce proceedings against Hunter, who has been having an ongoing affair with a massage therapist for the last 10 years.
The last straw was when the woman gave birth to a baby girl believed to be Hunter's love child.
#WendyWilliams' son #KevinHunterJr has been arrested for assault after punching his father, #KevinHunterSr. More on https://t.co/BBLwet2fkh! Or swipe up in stories https://t.co/6JpzINxlnC pic.twitter.com/2dP4ji2tai

— YBF CHIC (@TheYBF) May 22, 2019
THE UGLY DETAILS OF THE WILLIAMS/HUNTER DIVORCE
The beleaguered talk show host finally put her foot down and fired Hunter from her show, repossessed a sports car he'd bought for his mistress with her money, and kicked him out.
Kevin Jr., 18, who is the couple's only child, has been unswerving in his support for his mother.
Since the separation, Williams seems to have taken on a new lease on life, and is even rumored to have a new love interest.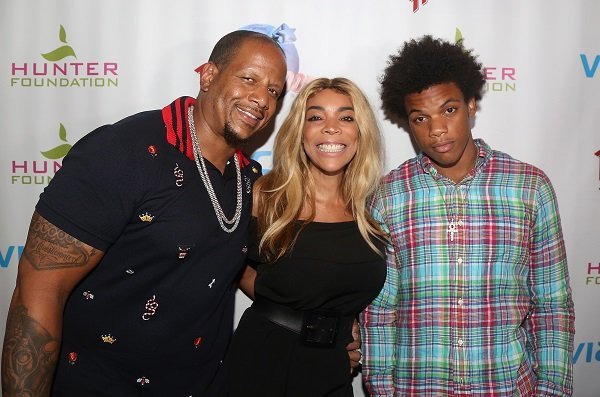 THE FIGHT BETWEEN KEVIN JR. AND KEVIN HUNTER
On May 22, Wendy Williams' son, Kevin Hunter Jr., reportedly got into a fight with his father, Kevin Hunter Sr.
The incident occurred in the parking lot of a store in New Jersey,  near the family house. Apparently, Williams had dropped off her 18-year-old son at their house where he unexpectedly ran into his father.
The two went to a nearby store, and Hunter and Kevin Jr. started arguing, allegedly over Sr.'s plan to ask Williams for spousal support.
Hunter put his son in a headlock, but Jr. punching his father in the nose and broke free. Kevin Jr. was arrested for assault, but Hunter has declared that he will not be pressing charges against his son.