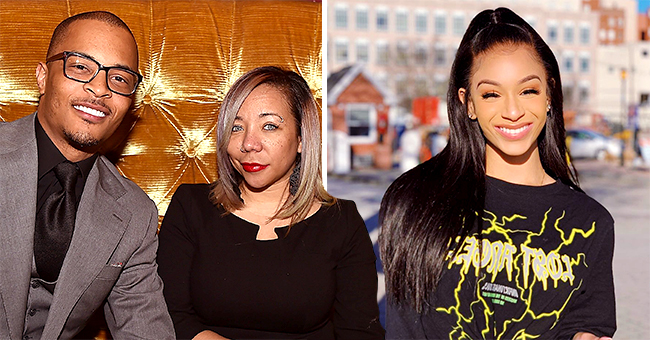 Instagram/princess_of_da_south Getty images
T.I. and Tiny Get Emotional in Posts as Deyjah Harris Turns 18
T.I. and Tiny Harris celebrated Deyjah Harris' 18th birthday by posting loving messages on their Instagram accounts.
T.I. Harris's daughter Deyjah has just turned 18, and her proud father and stepmom, Tiny Harris, posted touching messages to the birthday girl on Instagram.
The devoted couple shared lovely images of Deyjah from her younger years, up until more recent which show the lovely young woman she'ds grown into.
"You're all my most genuine qualities without flaw in human form. The purest parts of me. I've learned so much about life from being your father." T.I. Harris
T.I. HARRIS' TRIBUTE TO HIS OLDEST DAUGHTER
T.I., credits Deyjah with teaching him valuable life lessons, especially as a father.
The rapper, who shares Deyjah with Ms. Niko, paid tribute to his daughter and revealed his admiration for her strength, her character and her uncompromising ethics.
"You've upset me and impressed me at the same damn time with the extremities of your heart. Looked me in my eyes and told me you were willing to accept the consequences in the face of expulsion for the benefit of defending your honor. I never told you but that was G Shit… u earned my respect for that," he wrote.
TINY HARRIS SHARED A SWEET COLLAGE OF THROWBACK PHOTOS
Tiny, who has been Deyjah's stepmom from the time she was 1 year old, considers the lovely teen her own. She shared a collage of several throwback photos of herself with her stepdaughter throughout the years.
TINY HARRIS' MESSAGE TO HER BELOVED STEPDAUGHTER
Tiny, who has watched Deyjah grow alongside her own daughter Zonnique Pullins, shared her love and her admiration for her stepdaughter.
"I hardly ever get to get pix with this beauty but it's her @princess_of_da_south birthday I'm a lil late but I love this lil lady. I'm so proud of who's she's become. Honored to have been in her life for 17yrs to watch her blossom. Babygirl can do anything she puts her mind to," she wrote.
T.I. AND TINY HARRIS' BLENDED FAMILY
T.I. and Tiny married in 2010, and share three children: King, 14, Major, 11, and Heiress, 3.
Tiny had one daughter from a previous relationship, Zonnique Pullins, 23, and T.I. has three other children: Deyjah, Domani, and Messiah.
The celebrity couple went through heartbreak when their first child, a daughter Leyah was stillborn in 2007, six months into a complicated pregnancy.
TINY HARRIS DOTES ON BABY HEIRESS
Rapper and reality star Tiny Harris is enjoying motherhood all over again with her three-year-old baby girl Heiress.
Tiny recently posted a video clip of Heiress learning to swim in her pool with the help of a trainer.
The tiny girl bravely dives for toys, with the help of her instructor while her proud mom encourages her from the sidelines.
Heiress is the blended family's third girl and youngest child and is doted on by her big sisters Zonnique and Deyjah.
Please fill in your e-mail so we can share with you our top stories!