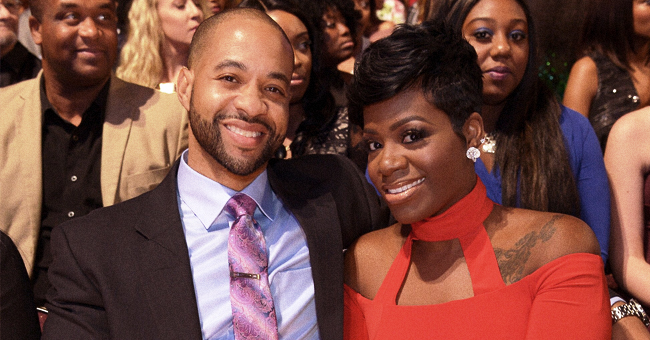 Getty Images
Fantasia's Emotional Tribute to Her 'King' Kendall Taylor on Father's Day

Fantasia shared a video of her husband on social media, and her caption is just so heartfelt that it has the media in awe of their relationship.
Fantasia Monique Barrino-Taylor, who is most popularly called Fantasia, exuded great pride as she shared a short video clip of her businessman husband, Kendall Taylor.
In the video, Taylor, dressed in a classy grey suit, can be seen standing on the stage and addressing a massive audience which Fantasia revealed in her caption were a young crowd.
Fantasia, the ever doting wife, can be heard speaking loudly and excitedly too in the clip. "All right now," she is heard saying as Taylor spoke. Even just by looking from Fantasia's point of view, it is undeniable that Taylor had an air of respect and confidence about him as he stood speaking to the audience.
His sterling singer-songwriter wife couldn't have been more proud of him as she excitedly took to her Instagram to share the short clip and captioned it with a lengthy emotional message dedicated to Taylor in commemoration of Father's Day. Fantasia wrote:
"Happy Fathers Day KING!! Watching you speak to those kids, and taking the time after to Love on them all blew my mind. Watching you get up and drive hours away to go and speak to the Men in the Prisons blows me away."
The 34-year-old didn't stop her words of admiration there as she went on to say that living with Taylor "melts" her heart as she watches him be the man he is now.
Fantasia also expressed great appreciation to the successful entrepreneur, who she fondly called her king, for taking good care of her at all times. The "When I See You" singer further wrote:
"I Salute you on Today for being an Amazing Father, Lover, and Friend."
Fantasia, who rose to fame after winning American Idol in 2004, concluded the message by assuring fans that she will share the whole video later and that Taylor's speech was so good that every youngster should watch it.
According to her, it was so beautiful that she forgot she was even at a graduation ceremony.
Fantasia and Taylor have a unique love story as they first met at a club and got married exactly three weeks after that. It was a whirlwind romance, but unlike what many would expect of a relationship like that, the pair are doing very well.
They will be celebrating their fourth year together in just a few weeks, and many of the award-winning star's fans are looking forward to more Instagram posts like this from her.
Please fill in your e-mail so we can share with you our top stories!