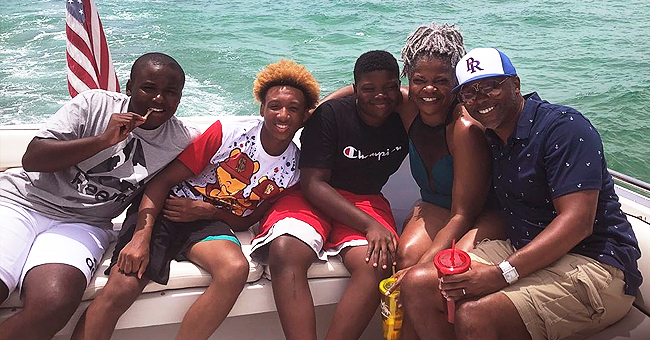 Instagram/therealmoworldwide
Mo'Nique Shares Photos of Husband & 3 Sons Vacationing on a Boat
Mo'Nique posted some amazing photographs of her family vacation with her husband Sidney Hicks and her sons.
Academy Award-winning actress Mo'Nique refused to attend the prestigious Cannes Film Festival for a very valid reason.
Mo'Nique went on a seaside vacation with her husband and her sons and posted amazing photos on Instagram to prove it.
"FAMILYMOON!!!!!Sisters WHEN ITS ALL SAID AND DONE FAMILY IS THE MOST IMPORTANT!!!! The Hicks Family LOVE YALL!!!" Mo'Nique
MO'NIQUE PLACES HER FAMILY FIRST
Mo'Nique has admitted that in the past her focus on her career has taken a heavy toll on her personal life.
"This is my third marriage. [With] the first two marriages, I was chasing [fame] and really didn't understand what it is to be a wife," she said.
But Mo'Nique reveals that her priorities have changed, and #1 on her list is spending quality time with her husband and her sons.
Mo'Nique starred opposite Donald Glover in a series of hilarious and critically acclaimed Addidas ads.
MO'NIQUE ENJOYS A "FAMILYMOON"
If the photos are anything to go by, Mo'Nique and her family had a blast on what she calls her "Familymoon," which included boat trips and dips in the ocean.
MO'NIQUE: "OPEN MARRIAGE BACKFIRED"
The actress, who once advocated an open marriage is now dedicated to an exclusively monogamous relationship with her husband and dedicated to raising her 3 younger sons.
"I thought I was saying to women you can enjoy your cake and eat it too. It backfired. Now that I understand what I have, baby listen, there's not another man on the face of this earth that can compare to mine," she said.
MO'NIQUE IN LAS VEGAS
The comedienne is currently enjoying a high point in her career and has just completed a residency in Vegas with sold-out shows.
Mo'Nique reveals that her life is all about making it real, and apart from her dedication to her family, she has proved her commitment by wearing her hair in its natural salt-and-pepper curls.
Mo'Nique starred opposite Donald Glover in a series of hilarious and critically acclaimed Addidas ads.
MO'NIQUE'S ADORABLE SONS
Mo'Nique is the mother of four handsome boys. The oldest is Shalom Jackson whom she shares with her first husband, and Mark Jackson, whom they adopted together.
With her husband of 12 years, Sidney Hicks, she shares twins Jonathan and David who were born in 2003.
Though she is close to Mark, Jonathan, and David, she has a complicated relationship with 25-year-old Shalon.
Hopefully, her new focus on family will help her to bridge the gap and bring her son back into the fold.
Please fill in your e-mail so we can share with you our top stories!