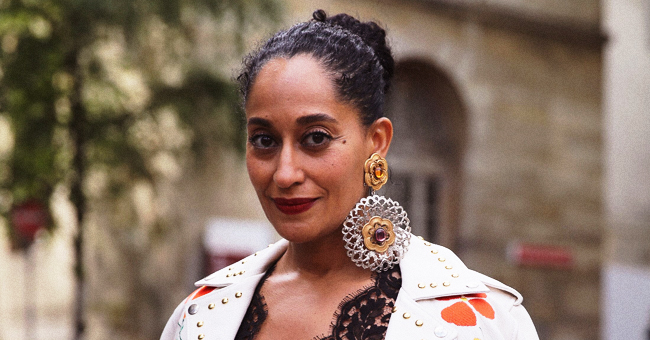 GettyImages
Tracee Ellis Ross & Mom Diana Could Be Sisters in Curly Hair Selfie
Tracee Ellis Ross and her iconic mother, Diana Ross, look stunning in new selfies shared by the "Black-ish" star on Instagram, and they could easily pass as sisters.
Diana Ross celebrated her 75th birthday a few months ago, but her ageless beauty matches that of her daughter, Tracee Ellis Ross in new pictures taken by the actress a few days ago.
ROSS' GOOD GENES
Mother and daughter rocked matching afros and similar expressions as they posed side to side for the camera, giving black and white vibes with their contrasting tops. Tracee, 46, rocked a bold red lipstick, while Mrs. Diana went a more neutral tone.
"SELFIES WITH MY MAMA ~ @dianaross" Tracee captioned the post.
Fans and friends were quick to fill the comment section with praises for the pair, and many pointed out that Mrs. Diana could easily pass as Tracee's big sister.
"Your Mom is lying, no way she's 75!" one user joked.
Another added,
"How does she look so young?! I want your secret aunty Diana!"
And a third one raved: "Black don't crack looking more like sisters! Good genes!"
LEARNING FROM THE BEST
In the past years, Tracee Ellis Ross has become one of the best-dressed women in the entertainment industry. She's not afraid to mix it up and try new styles, and she can look comfortable while crossing boundaries with her outfits, a characteristic that designers seem to love about her.
Tracee inherited her love for fashion from her mother. After college, she worked as a fashion editor and had a brief modeling career, but then acting became her main thing.
Still, one of Tracee's favorite activities, as she told InStyle magazine, is entering her mother's closet to get inspiration.
"It's like going to a museum," she said.
And continued:
"I'll sound like a crazy person, but when I hold some of her extraordinary original beaded stage clothes, there is a particular Diana Ross smell, a mom smell, a certain perfume that I just love. And sometimes, when you open the garment bags, and there's makeup or sweat or other evidence of the clothes being worn — I find it really extraordinary. It's an artifact.
OWNING HER SEXINESS
From her mom, Tracee also learned to embrace her sex appeal in a glamorous way.
As a child, she was always enthralled when watching her mom in a sparkly dress owning the stage, but as she grew up, Tracee realized that she was "seeing a woman in her full glory being in connection with this gift she was given, being glamorous and sexy but not in a way that's 'Look at me.'"
"I was raised to view sexy as being at the height of your ... self. Clothing was one of the ways you could wear your inside on your outside," she concluded.
Please fill in your e-mail so we can share with you our top stories!