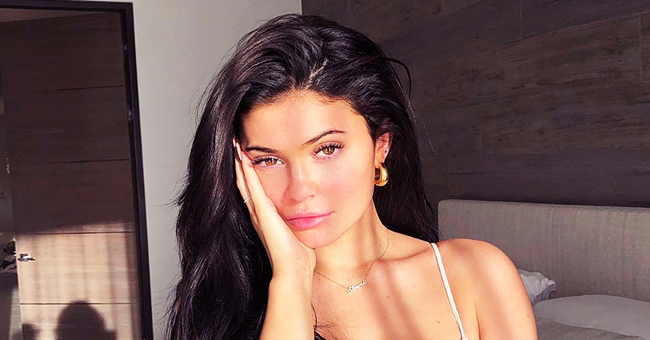 instagram.com/kyliejenner
Kylie Jenner Shares a Snap of Her Green Satin Underwear
Being a part of the Kardashian family, Kylie Jenner never shies away from showing off her famous curves. In a recent post, the "Keeping Up With The Kardashians" star showed off her sizzling curves in chic green satin underwear.
Kylie never misses a chance to flaunt her enviable assets in risque snaps.
In a recent Instagram post, the self-made billionaire showed off her gorgeous figure as she rested on a couch rocking a green satin bra paired with a matching thong and jeans.
"Cloud nine," the 21-year-old captioned the racy snapshot with a cloud emoji.
KYLIE'S SWEET BIRTHDAY MESSAGE TO KHLOE
The raunchy post was followed by a snapshot of her sister Khloé, who celebrated her 35th birthday on June 27. Paying her beloved sister a sweet tribute for her birthday, Kylie wrote:
"Khloé, no time or distance apart could ruin the bond we have. I feel so lucky to call you my sister. thank you for all the love, guidance, and laughter throughout the years.. my life truly wouldn't be the same without you. I feel so blessed to take the journey of life together because there will just never be another you. Happy Birthday."
Kylie is one of the sweetest members of the Kardashian clan who loves her family endlessly.
In a video posted on the Kardashian's YouTube channel, the mother-of-one also noted that Khloé is a "bright light" in her life and that she means so much to her.
At 21-years-old, Kylie has everything she could ever wish for. However, not everyone is impressed by her massive wealth.
ALEX RODRIGUEZ NOT SO IMPRESSED WITH KYLIE
In a recent Sports Illustrated interview, Rodriguez revealed that all Kylie Jenner could talk about during the Met Gala was about her Instagram profile and how rich she is.
Although Arod was excited to be a part of the star-studded event, Kylie's remarks did not really impress him it seems.
"We had Kylie and Kendall. And we had an Asian gentleman from Rich Asians, the lead. Kylie was talking about Instagram and her lipstick, and how rich she is," Rodriguez said.
KYLIE WAS NOT HAVING ALEX SHAME HER
Despite Rodriguez's good relationship with the Kardashian family, Kylie did not step back from defending herself after his comments about her.
She took to Twitter to clarify that she made no such remarks, writing:
"Umm no I didn't. We only spoke about Game of Thrones."
We wonder what Rodriguez has to say about that.
Please fill in your e-mail so we can share with you our top stories!