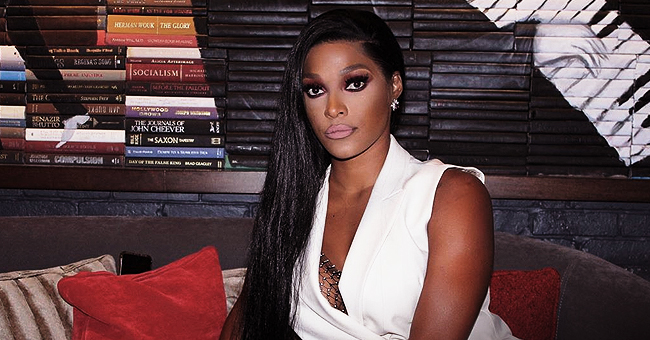 Instagram/joseline
Joseline Hernandez Slammed after Daughter Poses with Shoes on the Wrong Feet
Joseline Hernandez is getting criticism from fans, once again, after some people noticed she put her daughter's shoes on the wrong foot in a new Instagram picture. The reality star is currently in the middle of a new legal battle with her baby's daddy, Stevie J.
Joseline Hernandez recently made a wardrobe mishap on her daughter's outfit, and not even Bonnie Bella's cuteness could deviate fans' attention from the mistake on a new Instagram pic.
As a result, people are now letting Joseline Hernandez have it and calling her out for her lousy parenting.
In the adorable pic, Bonnie Bella is seen wearing a yellow graphic t-shirt, jeans, a colored hat, and neon green sneakers. Her hair was tied up in two buns, and she gave the camera a broad smile while fiddling with the hem of her shirt.
However, some fans noticed that Bonnie's shoes were on the wrong foot, and they didn't hold back while slamming Joseline on her comment section for not being aware.
FANS' MIXED REACTIONS
"Wow Joseline... you dressed her tacky then put her shoes on the wrong feet," wrote one user.
Another added,
"First of all .... her shoes look like they on the wrong feet and this outfit doesn't match AT ALL! I wish you would dress her better. She's too cute, and you have too much money to be dressing her like a bamma."
And a third one chimed in to defend Joseline:
"Damn why does it matter if her shoes are on the wrong feet that's a baby, and I'm sure her mom knows how to put her daughter shoes on. It's sad how black folks clown our own color but get mad when a white person clowns us. Damn, they are only shoes why talk and pick with people for no reason at all?"
It's not the first time Joseline encounters heavy criticism from her followers for her parenting skills, but she remains unbothered as people criticize her daughter's hair, clothes, shoes, and even her little teeth.
ANOTHER LEGAL BATTLE
At the moment, Joseline has more pressing issues to tackle, as she's in the middle of a new legal battle with Bonnie's dad, Stevie J, regarding their agreement on the 2-year-old's custody.
According to documents obtained by The Blast, Stevie J filed a petition in court last May asking a judge to put Joseline in jail for violating the terms of the custody agreement they reached in 2018.
The music producer and "Love & Hip Hop: Atlanta" star claims that Hernandez has denied him his visitation rights in several occasions, and also that she's excluding him from the decision making on several aspects of Bonnie's life such as healthcare, education, religion, and general upbringing.
Now, Hernandez is firing back in court. She denied Steve's accusations and asked the judge to reject Stevie's request of sending her to jail and dismiss the case.
Stevie is also asking for primary custody and claims Bonnie Bella would have a better life with him and his wife, Faith Evans, in Atlanta.
Joseline and Bonnie Bella have been living in Miami for over a year now, as the self-claimed Puerto Rican princess films a new reality show, "Joseline Takes Miami."
Please fill in your e-mail so we can share with you our top stories!