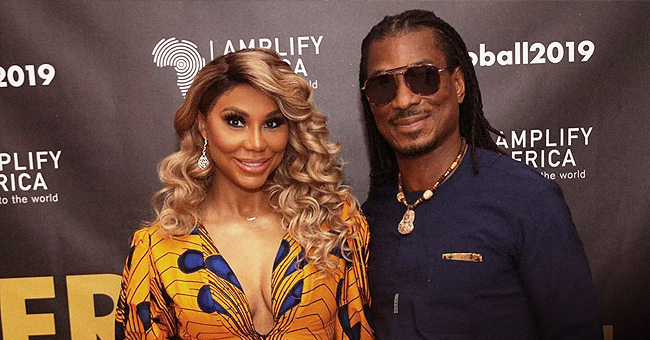 Instagram/adefeso
Tamar Braxton's Boyfriend Shares past Pic of Singer Washing His Dishes on Anniversary

David Adefeso shared a photo of his beloved Tamar Braxton to celebrate the first anniversary of their relationship.
Fans of Tamar Braxton have been following her new relationship with David Adefeso eagerly.
The couple has now been together for a year, and to celebrate the occasion, David posted a snap on Instagram of the woman he adoringly calls "my Tamar."
DAVID ADEFESO POSTS PHOTO ON FIRST ANNIVERSARY
David posted a photo of Tamar taken just weeks after they met. and in it, the celebrity is wearing no makeup and is busy washing dishes.
David explains the significance of the snap in the caption, and the impact the incident had on his feelings for Tamar.
"My @tamarbraxton I remember this day barely two weeks since we'd met. It was a Friday. Long week…my place was a bit messy. You jumped in and started doing the dishes without asking…and I couldn't take my eyes off of you. I can't help now thinking that although our connection became inextinguishable right from that day we met in the late summer blue month of June, it took me almost two weeks to July 13, the day I took this picture of you, to realize I needed to continue the rest of my journey with you. Happy Anniversary, Mon Amour!!#happyanniversarytamar," he wrote.
Tamar's adoring man has already made it clear that he wants Tamar to travel to Nigeria to meet his mother
TAMAR BRAXTON GIVES HELPING HAND
According to David, Tamar popped in for a visit two weeks after their first meeting and found the apartment in a bit of a mess, since the businessman had been busy with a project.
Tamar calmly rolled up her sleeves and started doing the dishes without being asked, and won his heart forever with her kindness.
TAMAR BRAXTON'S FANS REACT TO DAVID ADEFESO'S POST
If David had already won Tamar's heart, he now won over all of her fans too, with approving comments flooding in.
"Cuties show the world how a real man treats a woman. Tamar is wishing your dishes that is unbelievable. She is freaking gorgeous and take care of our beautiful Tamar."
"She's a keeper David! You lucked up! Cherish and continue to shine that trophy! We love seeing her happy! P.S. tell her ass to get in the studio."
"She is very African too, that's what good African women do. Happy Anniversary!! and many happy more years to come hits different when you finally meet your soulmate…"
IS MARRIAGE IN THE CARDS FOR DAVID AND TAMAR?
Tamar's adoring man has already made it clear that he wants Tamar to travel to Nigeria to meet his mother and his family, and has hinted that he considers her "The One," often referring to her as his soulmate.
David is also devoted to Tamar's son Logan and gets on well with the entire Braxton clan who seem to have taken him into their hearts.
The only thing that may be holding David back from popping the question is that Tamar's divorce from Vincent Herbert isn't final yet.
VINCENT HERBERT FACES LEGAL AND FINANCIAL CRISIS
Tamar Braxton's professional and personal life is blossoming, but her estranged husband Vincent Herbert is facing serious legal and financial problems.
The successful record producer has defaulted on a court order issued in 2017 to pay a $380,000 debt to LDNX Records.
The music company is now trying to locate Herbert's assets so they can make good on the payment ordered by the court. He also owes Sony Music $3,7 million on a separate lawsuit.
Since Tamar's divorce from Herbert is not yet final, it is to be hoped that her own assets will not be affected by the music producer's downfall.
Please fill in your e-mail so we can share with you our top stories!