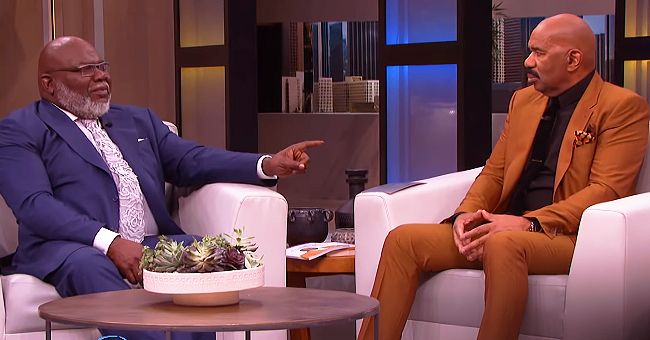 Youtube/Steve TV Show
Bishop T.D. Jake's Words of Wisdom for Steve Harvey on Talk Show Finale

Steve Harvey takes Bishop T.D. Jakes' advice to heart as he shares the minister's powerful message about the value of not knowing the future during the series finale of "Steve.".
Steve Harvey couldn't have ended his show's run on a better note with Bishop T.D. Jakes as his final guest. The comedian who bid goodbye to "Steve" on Wednesday picked up some valuable advice from the minister.
THE BEAUTY OF UNCERTAINTY
The road seems uncertain for Harvey who learned in January that his 7-year-show was coming to an end. However, Jakes appeased him by sharing the importance of not knowing what's up ahead.
"You're not supposed to know. Life is a mystery."
In a clip the television host shared on his Instagram, he lauded the bishop for his words of wisdom that couldn't be more appropriate in his life right now.
"There is no better guest to have today than the inspiring @bishopjakes. When I said I didn't know what God had planned for me, Bishop Jakes shared his powerful message why I shouldn't know," he wrote to caption the clip.
Jakes said that the beauty of not knowing lies in what one gains by it.
"You're not supposed to know. Life is a mystery," he tells Harvey. "If you take away the mystery and everything was certain you wouldn't need faith."
"...the more unstable your life becomes the more you have to go inside yourself to stabilize yourself."
JAKES USES AN ANALOGY TO DRIVE TO HIS POINT
Jakes further explains that God allows us to experience these moments of uncertainty "in order to destabilize us from thinking and relying too much on what we know." He then uses an analogy to prove his point.
"Like a trainer who starts you out on a weight machine, and then he puts you on a bench and he gives you free weights because now it's less stable," he explained. "The less stable it is the more muscle you build. So the more unstable your life becomes the more you have to go inside yourself to stabilize yourself."
Jakes encourages, "You're strong enough to withstand instability. And if you knew everything, you'd have no room for faith, for discovery, for innovation. Because creativity comes in uncertainty."
HARVEY REFLECTS ON THE END OF HIS SHOW
Harvey himself relied on an analogy as he reflected on the end of his program in an Instagram post ahead of his final episode. He compared this time in his life as the closing of one chapter of a book and the opening of another. His son, Wynton Harvey appeared to suggest a silver lining as he hinted at what may be in store for the comedian after the show.
HARVEY MAINTAINS A POSITIVE OUTLOOK
It's more likely Harvey will move on to greater pastures what with his positive mindset in place. In fact, he shared some tips on his web series, "Motivated" on how to keep looking forward to a great day.
No doubt, Harvey wakes up every morning thinking, "Man, it's gon'be a great day," the exact words he used to encouraged his audience to stay positive.
Please fill in your e-mail so we can share with you our top stories!