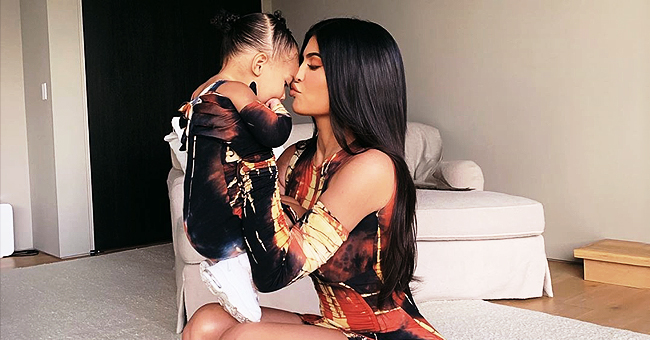 Instagram/kyliejenner
Kylie Jenner Twins with Stormi in Tie-Dye after KUWTK Airs Tristan-Jordyn Scandal

Kylie Jenner basked in motherhood as she took to social media to share a photo of herself and her lovely daughter in matching outfits.
The world-famous reality star shared pictures of herself and her fast-growing baby girl, Stormi via Instagram. There are three photos in total, and they all include the young entrepreneur and baby Stormi, the product of her relationship with American rapper, Travis Scott.
The mother-daughter duo was picture perfect in their similar lovely outfits. Kylie revelled in motherhood in the first picture as she carried Stormi in her arms. She wore a skin-tight dress that barely reached mid-thigh and left very little to the imagination thanks to its stretchy fabric and the pleated design it had all over.
The dress had straps falling off its bodice and sported a long sleeve which had a cold shoulder design. Many have argued that the outfit is rather too racy for the lovely mother-daughter pairing the beautiful star was going for, but no one has denied the fact that Kylie killed the look!
The "Keeping Up With the Kardashians" star finished off the appearance with tall strappy heels, her black mane styled flowing past her shoulders and her face well made up.
Little Stormi, who clocked one earlier this year, was dressed up just like her hot mama. Her outfit was a miniature version of Kylie's, and the photos all show that the little girl was excited even as her stunning mama crouched low to pose for pictures with her.
It must have indeed been a tough one for Kylie who still had her high-heeled shoes on. The pose looked rather difficult but was just the perfect thing as it put her bared thighs in full display.
Kylie's efforts didn't go unnoticed, and it has made the picture a rather popular one on the internet. So far it has amassed well over 8 million likes and thousands of comments! The remarkable response is not a surprise considering that the gorgeous makeup mogul is one of the top media influencers known right now.
There is always something going around when it comes to the Kardashian clan, and Kylie is an integral part of that fantastic circle.
Kylie's gorgeous display on Instagram came very soon after her model best friend, Jordyn Woods was discovered to have had an affair with Tristan Thompson, Khloe's infamous baby daddy.
Kylie has been doing very well despite Jordyn's stinging betrayal and even proved herself to be the bigger person when she admonished her big sister, Kim Kardashian to remove an Instagram post that was directed at Jordyn.
That forgiving and peaceful spirit is what fans have mainly continued to find laudable about Kylie!
Please fill in your e-mail so we can share with you our top stories!