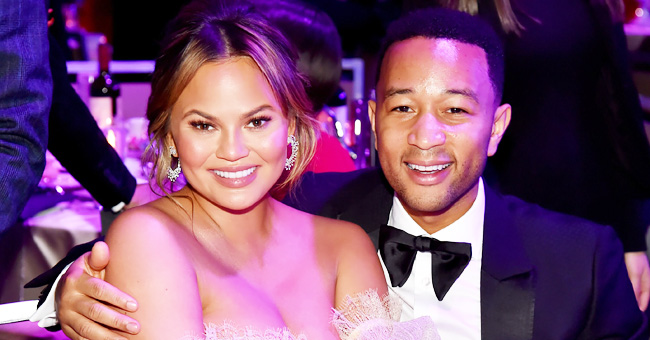 GettyImages
Chrissy Teigen, John Legend Share Travel Highlights from Family Getaway to Italy
Chrissy Teigen and husband John Legend are enjoying their summer in Italy alongside their two beautiful children, and for their fans' delight, the power couple has been pretty active on social media, sharing pics of their luxurious trip.
As most people get ready for the 4th of July festivities in the U.S, Chrissy Teigen and John Legend decided to take the American celebration to Europe, where they're currently enjoying of everything the fishing village of Portofino, in Italy, has to offer.
The couple jetted off with their two children, daughter Luna, 3, and son Miles, 1, who seem to be enjoying the luxurious amenities of their trip as much as their parents.
CUTENESS OVERLOAD
Teigen, 33, and Legend, 40, have been documenting the vacation on Instagram, sharing adorable pics of their children.
On Tuesday, Chrissy, John, and Luna hit the streets of Portofino for a bit of sightseeing, and while the toddler looked cute in a white dress and sandals, her parents opted for color-coordinated outfits, with Chrissy rocking a long yellow dress, and John a matching shirt and khaki pants.
Teigen also shared a pic of her husband and Luna; one of Luna enjoying a jacuzzi aboard a yacht, and one of Miles basking under the sun in his swimming shorts and arms in the air that she captioned:
"John posted this but I have more followers."
People agreed with Chrissy's hilarious statement, and model Tess Holiday commented:
"I mean, really it would be a disservice to Miles bc he is so cute & everyone needs to see this photo twice...so you're actually being a good mom."
MORE ADORABLE PICS
Legend, on the other hand, shared a selfie with little Luna with the ocean in the background.
"Happiness = Luna eating leftover pizza on the Mediterranean," the "All of Me" singer captioned his post.
He also shared two pics of the Italian scenery: one of the Cinque Terre, and one of Porto Venere.
"I don't really post any things that the kids would be ashamed of or mad at me for posting."
Meanwhile, Teigen made sure to let her business partners and friends know that, as long as she's on vacation, she will not be answering emails. However, she joked that Miles would be taking over that responsibility by sharing a pic of the boy crawling over an open laptop.
"if you email me anytime in the next 7 days this is who is replying," Teigen captioned the post.
FANS' REACTIONS
"I'm sure he is making some great deals! For toys and candy," one user commented.
Another added, "I don't mind that response, I'm cool with random emojis and weird pictures."
And a third one pointed out,
"He looks like he's playing piano singing All of Me."
TALKING ABOUT SOCIAL MEDIA
Although Teigen, in particular, has a massive presence on social media and never hesitates when sharing her opinion or clapping back at haters, she recently confessed to Pop Sugar that there are some limits as to what she shares on the internet when it comes to her kids.
"I don't really post any things that the kids would be ashamed of or mad at me for posting," she revealed.
And continued:
"I see a lot of people posting their kids' tantrums and having super meltdowns. I don't post that stuff just because that, to me, is like — I wouldn't want someone to do that. You try to protect them, of course, but for the most part, aside from the kids, there is no limit."
As an example, the "Lip Sync battle" star recently received critics for sharing a pic with her legs spread in the air while her makeup artist was working on her body's makeup.
People found the pic "tasteless" and "vulgar," but Chrissy opted to ignore the haters and, until now, hasn't deleted the pic from her page.
Please fill in your e-mail so we can share with you our top stories!