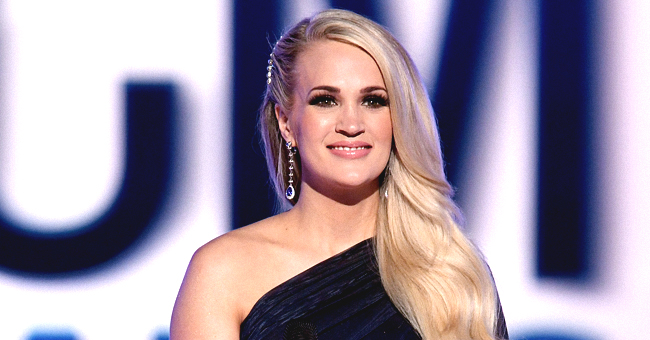 Getty Images
Carrie Underwood Meets a Fan While Going out Makeup-Free

Carrie Underwood almost couldn't be recognized as she goes makeup free in Glasgow, but still looks as beautiful as ever as she smiles for a photo with a fan.
During a stroll in Scotland this week, a fan stumbled upon a makeup-free Carrie Underwood and asked for a photo. The hit country singer looks almost unrecognizable as she went with her natural beauty before her concert at Glasgow's SSE Hydro.
Underwood looked radiant with her bare face as she smiled for the photo in a green hoodie with a "Sesame Street" character, Oscar the Grouch, printed in front, and a black backpack. She also tied her blonde hair in a ponytail, making her look even more fresh and simple, yet beautiful.
"Thanks for taking time today @carrieunderwood," tweeted the fan. "Waited 13 years to meet you and you were as lovely as I know you to be! And its always nice to talk some @NKOTB with a fellow Blockhead!"
The "Jesus Take the Wheel" singer once revealed that she rarely leaves her home without makeup as it is a means to boost her confidence in public. She shared:
"Makeup is a confidence builder for me. When I want to look hot, I like smokey eyes and eyeliner. I just feel like it's nice to have things that enhance the things you like and cover up things you don't."
Many celebrities have rocked the no makeup look, which they shared on social media, to defy the unrealistic standards of beauty set by media. "A Star Is Born" actress, Lady Gaga, went bare-faced in a birthday photo posted on her Twitter account.
Cosmetic queen, Kylie Jenner also previewed a no-makeup look to her fans on social media as she flaunted her natural beauty in an Instagram post. However, Jenner highlights the importance of taking care of your skin as she released her skincare line.
Another celebrity who hopped on the bare-faced beauty trend is Mila Kunis who was spotted out with her family in Yogurtland. Despite displaying a natural look, the actresses beauty looked timeless, perhaps brought about by her happiness.
While makeup is an art form which can help a person feel more confident and enhance beauty, it is always important to be comfortable in your own skin and know that beauty has no standard as it resonates in everyone.
Please fill in your e-mail so we can share with you our top stories!