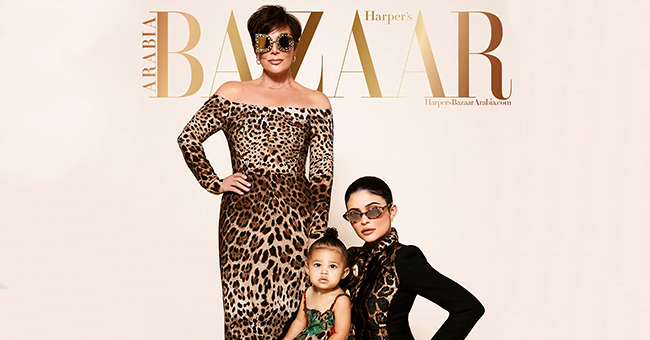 Instagram.com/harpersbazaararabia
Stormi Webster Makes Magazine Cover Debut Alongside Mom Kylie Jenner & Grandma Kris
It's time to officially welcome Stormi Webster into the modeling world now that she's graced her first major magazine cover with her mom and grandmother, Kris Jenner.
Stormi Webster is only a year old, and she's already landed a cover on the prestigious Harper's Bazaar Arabia magazine. The lovely trio sported leopard-print outfits for the cover, and they looked chic and elegant as can get.
For the cover article, Kylie shared how motherhood has changed her perspective on life. However, she made sure to credit her mom for how she's raised her to be the mother she is now.
A Model at 17 months old
Stormi just outshined her fellow Kardashian-Jenner cousins after she landed her first magazine cover for the July/August issue of the Arabian magazine. However, it was revealed that Webster wasn't actually supposed to be part, and Kylie just brought her daughter to the shoot.
Jenner then pulled out a Dolce & Gabanna dress that matched the ones she and Kris were wearing and said: "Let's do this!"
"When I became a mother, my perspective on life completely changed, and so did how I look at my own mum and appreciate all the things that she's done for me."
On Motherhood
Now that she's a mother herself, she understands why her mom did all the things she once thought were unnecessary for her and the rest of her siblings.
"Now I can understand the way that she feels about me, the way that she loves me, and how strong her love is for all her kids, because of how obsessed I am with Stormi."
Hearing all the kind words from her youngest daughter, Kris emotionally responded saying: "I'm obsessed with you, Kylie!"
A Good Role Model
Now that "Keeping Up With the Kardashians" is back, its latest episode shows Kylie asking her family not to bully Jordyn Woods over the Tristan Thompson cheating scandal that she's been entangled in.
She was put in an awfully uncomfortable position after finding out her best friend was entangled with her sister's then-boyfriend, something that ruined both a relationship and a friendship.
On "Keeping Up With The Kardashians," Jenner tried to Kim Kardashian about the whole ordeal, asking her and the rest of their family to cool down with what they post on social media.
The Right Thing to Do
After finding out that her sisters, Kim and Khloe were shading Jordyn on Snapchat, she decided to call Kim out on it.
"I just feel like we're bigger than this, we're better than this, and I feel like if you want to call her or yell at her or do whatever you want, or let's all talk in person. I just feel like the singing and the internet stuff; it's just not okay."
She then began sharing that the night before that day, she saw Jordyn looking like she went through hell, and Kylie began crying.
"We just don't need to bully somebody ... I don't think anyone deserves this. Let's express everything in person, however we feel."
A Change of Heart
Kim then realized that her younger sister was right and that she had to be the better person, always.
"I definitely don't want to be a part of bullying, that's not part of my MO. Kylie's right. I don't want to be a part of that game."
Kylie is definitely a role model to look up to, even for people older than her, because of the way she chooses kindness over everything else, the way she works hard on her beauty empire, and the way she loves and cares for her family and daughter.
Please fill in your e-mail so we can share with you our top stories!