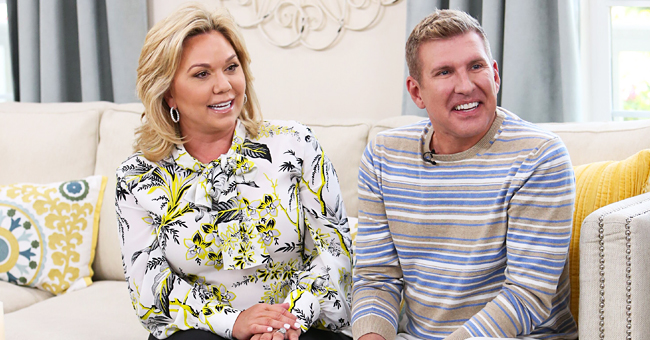 Getty images
'Chrisley Knows Best': Todd Chrisley and Julie Decided to Hide Details of Doctor's Visit from Their Son
Todd Chrisley and Julie's decision to keep the details of their son's visit to the doctor away from him led to unintended consequences.
In the recent episode of the USA show "Chrisley Knows Best," Todd Chrisley and his wife, Julie, decided to keep a piece of important information about their son's visit to the doctor from him.
The teenager, Grayson, was supposed to go to the dentist to get braces, but the procedure included fixing an extension into his mouth to widen it, and the reality couple chose to keep the information to themselves.
Todd and Julie's decision sparked a debate between them and their older children, Savannah and Chase, but the parents who claim to know best said they were doing it in the interest of their last child.
Although their daughter disagreed, saying, the reality Stars need to prepare Grayson mentally for the procedure, it turned out that indeed the couple knew best.
Todd shared on Instagram, a video of their time at the Dentist before the episode aired, and in the audioless video, the father-of-three is seen grimacing while his wife bit her finger during the procedure which the clip didn't show.
In the caption, he wrote,
"Have y'all ever seen your kids get braces? It's a terrifying sight…"
Todd and Julie later said that they made the right choice in withholding the information. The mum-of-three pointed out that Grayson who suffers from anxiety did not have time to process the information or research about it, and behaved calmly during the procedure.
Despite everything going smoothly, things went downhill when Savannah revealed to the teenager that everyone in the family knew about the extension. The young TV star got angry at his parents after the revelation, and he told them he could have handled the details and didn't appreciate the lies and secrecy.
Grayson's reaction is similar to that of Samantha when Todd refused to let her handle her work as the events director of the Miss California USA pageant, in June. The father-daughter duo disagreed on Todd's lateness and disruption of rehearsals, which his daughter described as "Awful."
The TV star later revealed that he felt Samantha needed his help, and it's hard for him to accept that his children do not need him to rescue and fix things for them anymore.
Todd assured his family that he is learning to let go, and at the same time, he and Julie are building a relationship based on trust and honesty with Grayson.
Please fill in your e-mail so we can share with you our top stories!