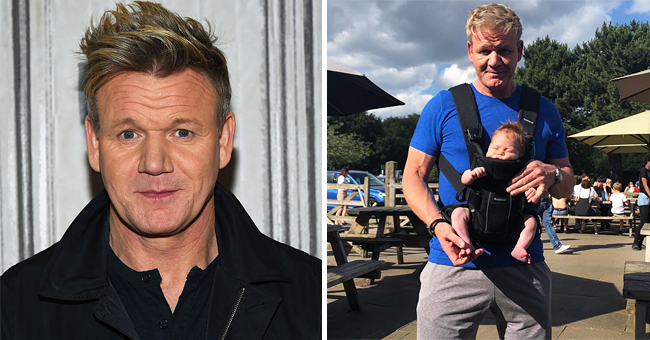 Getty images / instagram.com/gordongram
Some Fans Criticize Gordon Ramsay after Seeing a Photo of Him Carrying Three-Month-Old Oscar

Celebrity chef Gordon Ramsay faced online backlash after posting a photo of himself carrying his three-month-old son.
The 52-year-old television personality shared the photo on Instagram, where it received nearly half a million likes in just three days.
"Could you please wear your baby properly so your baby's face is not squished and in discomfort."
The world-famous chef captioned the photo:
"Walk in the Park with my new best mate."
But not all fans were pleased by the picture. Others commented on how his baby, Oscar, looked as though he was in pain.
"TAKE SOME LESSONS"
"Get a lillebaby carrier! That thing looks painful!" one Instagram user wrote. Another commented, "Your baby carrier is too low down…"
Yet another user chimed in, "Baby-wearing? This is the wrong way. Take some lessons and you'll love wearing your baby rightly and safely."
Another comment reads, "Congratulations! Could you please wear your baby properly so your baby's face is not squished and in discomfort. I hope this is just for the picture and you don't actually wear your baby like this. So sad!"
Oscar is Ramsay's fifth child with his wife, Cayetana Elizabeth Hutcheson.
Other fans, however, defended Ramsay. One wrote, "Everybody needs to calm down about the baby. This isn't his first kid and the baby will be perfectly fine. Christ, people have gotten so sensitive about everything!"
HEART-MELTING BIRTHDAY SURPRISE
While Ramsay is known for his fiery temper, he turns soft around his children.
The "Hell's Kitchen" owner was nearly brought to tears when his children surprised him with a heartwarming 50th birthday party.
His oldest daughter drove him and his wife to the party in a black taxi.
His children had booked an empty restaurant to host the party, with Matilda, Holly, Megan, and Jack cooking the feast themselves.
They served a three-course meal, which included a very theatrical chocolate dome dessert that melted under a hot chocolate sauce.
Ramsay's parents and all his children were at the surprise party.
Please fill in your e-mail so we can share with you our top stories!