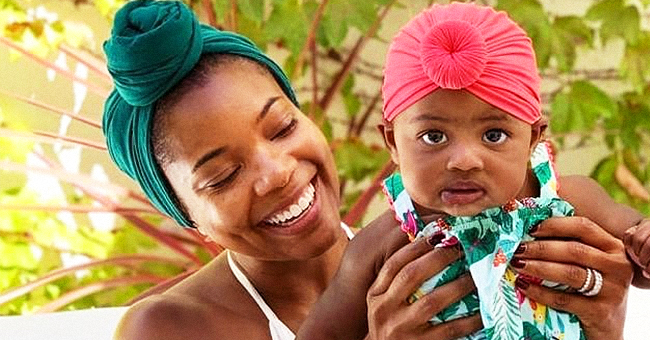 Instagram/gabunion
Makeup-Free Gabrielle Union & Daughter Kaavia Are Twinning Goals in Colorful Turbans
Gabrielle Union and her 7-month-old daughter, Kaavia James, are mommy-daughter goals in a new series of pics the actress shared on Instagram, and fans can't get enough of the "shady baby" cuteness.
Dwyane Wade's wife and daughter, Gabby Union and Kaavia James, stole hearts all over Instagram with their twinning smiles and turbans.
In the pics, a makeup-free Gabby is rocking a white dress and a green turban, while Kaavia donned a green dress with a tropical motif, and a pink turban to match with Gabby.
Kaavia was clearly excited as she stood on the sofa with her mom's help, and Union couldn't help but smile at her girl's joy.
"Best of @kaaviajames," Union captioned the adorable set.
FANS' REACTIONS
Fans and friends couldn't help but gush at the pictures in the comment section.
Actress Octavia Spencer wrote: "You better stop with all this cuteness," while Elise Neal pointed out, "Ohhhh my goodness she is getting used to the cameras! Watch out world!!"
"That Baby Standing Up! Yaaas. Great job, Mom & Dad!! Looking great," wrote one user.
And another added, "#shadybaby is winning the cuteness contest if there ever was one!"
JOURNEY TO KAAVIA
Union and Wade welcomed baby Kaavia via surrogate in November 2018.
The couple had struggled with fertility issues while trying to conceive a baby, and in the end, it was Dwyane who suggested going the surrogacy route after he realized Union was taking her body to the extreme while trying to get pregnant.
For Union, however, finding a surrogate felt like a failure at first because she wanted to "bake" her baby.
However, once she managed to overcome that feeling, the 46-year-old actress started to focus on what was to come once baby Kaavia arrived into the world.
TEARS OF JOY
On Mother's Day, Gabby reminisced about those feelings alongside a pic of the exact moment she and Wade first met Kaavia. In the shot, they're both wearing scrubs, and newborn Kaavia is still drenched in amniotic liquid.
"I've cried so many times today for so many reasons, mainly because I'd gotten accustomed to heartbreak and disappointment," Gabby started her caption.
And continued:
"I think a lot of us live in that space. I set up shop there. This moment reminded me that miracles do happen. You cant age out of joy. You are worthy. You are worthy. You are worthy. Sending so much love today to all the mamas, stepmamas, grandmas, aunties real and play, daddies, friends and anyone who has taken the time to nurture another living soul. I see you, I gotchu."
SHADY BABY ON THE MOVE
Although it has been an emotional ride for Union and Wade, Kaavia has now become the source of light in their lives.
Her hilarious judgmental expressions led the proud parents to nickname the girl "shady baby," a moniker that most people on social media now use to talk about Kaavia.
It helps that the tot has her own Instagram account, managed by Union, where the new mom often shares funny pics and videos of Kaavia accompanied by even funnier captions that seen to give the baby a grown personality at only 7-months.
Kaavia already started to crawl and is moving around with her walker. Fans can't wait for the girl to begin walking already so that her adventures can take a new turn.
Please fill in your e-mail so we can share with you our top stories!