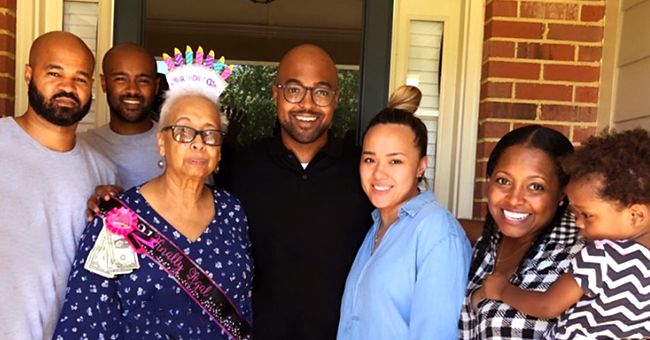 Instagram/keshiaknightpulliam
Keshia Knight Pulliam Shared Photo of Her Grandma on 80th Birthday & She's a Beauty

Keshia Knight Pulliam shared a rare photo of her family celebrating her grandmother on her 80th birthday. She looked relaxed carrying her two-year-old daughter while her grandmother wore a crown and a sash.
She's a devoted mother to her two-year-old but Keshia Knight Pulliam proves she's a loving granddaughter too. The former child star recently shared with her fans what a happy birthday it was for her "Nana."
THE CHILD STAR WE WATCHED GROWING UP
We knew her as the lovable Rudy Huxtable in the 80s sitcom "The Cosby Show" which won her an Emmy nomination at the young age of six. Much later, she delighted us in her role as Miranda Payne in Tyler Perry's "House of Payne."
Growing up in the eyes of the public, we witnessed how Keshia's life transformed from that of an innocent young child to a woman battling with her ex-husband in court over the custody of their child. All the more reason for us to appreciate every post, every special moment she shares to the world through her social media presence.
A DEVOTED GRANDDAUGHTER
A few days ago, Keshia took pride in spending time with her grandmother who turned 80. The joyful occasion was documented in a family photo featuring a relaxed Keshia alongside her grandmother and a few relatives including children whose faces the actress covered with emojis. The only child visible to the public was the one she was carrying, her daughter, Ella Grace.
Happy moments like this must be welcomed by Keshia who's had her fair share of heartaches in the past.
It seemed like it was a fun celebration with Keshia's grandmother wearing a crafted crown and a sash with money pinned on it. The 40-year-old actress didn't elaborate in her caption which merely read, "Happy 80th Birthday Nana... The Real OG!!! #FamilyOverEverything"
A SCORNED WOMAN
Happy moments like this must be welcomed by Keshia who's had her fair share of heartaches in the past. It began when her husband of seven months, Ed Hartwell, whom she married before the New Year in 2016, served her divorce papers. It had only been a month since she announced she was pregnant with their first child.
Along with the divorce papers, Ed accused her of cheating on him and questioned the unborn child's paternity. She would later prove him wrong when DNA results revealed Ed was the father.
A PROTECTIVE MOTHER
What followed later was a bitter custody battle over Ella who was born in January 2017. Ed moved on with another woman, Tonya Carrolll who Keisha believes he was already seeing during their marriage. Ed married Tonya earlier this year, months after their child was born.
Keshia eventually won full custody of Ella with Ed awarded visitation rights. In March, he was denied an appeal for a new trial but he seems determined because he filed another motion for a retrial the following month.
Meanwhile, Keshia is enjoying every moment with her daughter who remains the center of her existence. The happy two-year-old would often be featured on the star's Instagram accompanying her mother while shopping, working out, and just about anywhere.
Keshia's life may be far from perfect but it is a life she cherishes especially with her family around.
Please fill in your e-mail so we can share with you our top stories!