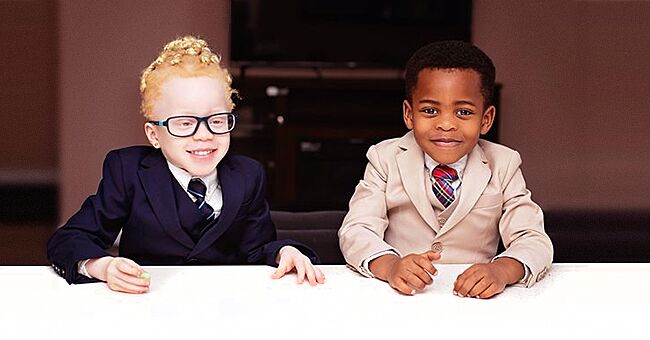 twitter.com/DailyMirror
Mom of Rare Black and White Twins Reveals Thinking She Was Given the Wrong Baby
Photographer Judith Nwokocha, who gave birth to one black and one black albino twin, uncovered that at first, she believed she had been brought the wrong baby.
The 38-year-old mother from Canada was stunned when she initially met her son, Kamsi, who was black, and her daughter Kachi, who has albinism, as reported by Daily Mail.
"I remember the doctors telling me she might not make it. I'm so grateful she did."
For a long time, Judith and her husband, who is also black, struggled before falling pregnant through IVF and birth in 2016.
However, a lot of people don't believe that Kamsi and Kachi, now three, are theirs as a result of their different skin colors.
"Most people don't believe they're twins," said Judith. "It's also [Kachi's] hair texture that confuses them. Someone has asked me, 'Where are her parents?' I can see the look of shock in their faces when I tell them I'm her mother."
The doting mom insisted that she never had any terrible remarks about Kamsi and Kachi's different skin color.
"I haven't had any negative reaction from anyone, they always tell me she is beautiful," she said.
Not long after she learned that she was pregnant, the doctor told her there's a possibility that her twins may be brought into the world with Down syndrome.
"I remember going for my first scan when they told me, 'You are having a baby,' and I said, 'No, I'm having two.' I knew, without a doubt," she said. "The second scan revealed we were having twins. I was told the twins might have Down Syndrome. At seven weeks, Kachi was always behind."
Judith added: "She was very small, she stopped growing. I remember the doctors telling me she might not make it. I'm so grateful she did. She didn't cry initially, so I was thinking, 'What's going to happen, how is she going to be?'"
Upon delivery, she stated, "I was shocked. I thought they had handed me somebody else's baby, I didn't believe she was mine. It never crossed my mind I was going to have an albino baby, we don't have any in my family, nor my husband's family."
"It was a real shock for me, I was thinking, 'What are they doing, why did they give me someone else's baby?'"
At that point, Judith realized that other than the fact that Kachi is a different color, the little girl bears a striking resemblance to her.
According to Daily Mail, Kachi was diagnosed with Oculocutaneous Albinism (OCA) type 2, which is inherited.
"It took me a while to realize I'm going to be raising an albino. I was really concerned about what people were going to say, it's not a very usual thing to have an albino and a black baby," Judith said.
"I was also sad, I was worried about how she's going to go through society, how people are going to treat her. It didn't affect my affection or love at all of course."
Judith proudly said that her daughter is clever with a solid character.
Please fill in your e-mail so we can share with you our top stories!