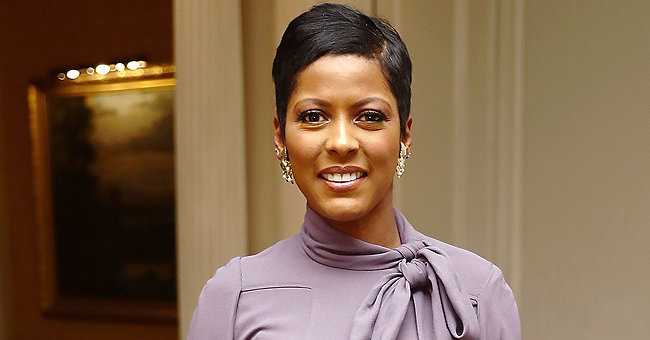 Getty Images
Tamron Hall's Baby Wears Stars Suspenders & Stripes Bowtie for 4th of July
Former "TODAY" host Tamron Hall's son pulled out all the stops for Fourth of July. Baby Moses marked the holiday with a stylish on-theme ensemble featuring stripes and stars, and it's the cutest sight you'll see on the internet today.
Americans the world over have been paying tribute to Independence Day the best way they know, and two-month-old Moses was not left out. Hall, 48, took to Instagram with a photo that showed just how chilled and stylish her son's day was.
DAPPER MOSES
In the picture, Moses is propped against a sofa and looking breathtakingly handsome in a 4th of July shirt complete with a red-and-white striped bow and blue printed-on suspenders with white stars. The outfit came with matching blue shorts with a white stars motif.
With his slicked-down hair and baby feet, Moses smiles slightly at the camera while maintaining a steady gaze. Honestly, the little man is too adorable for words.
"Well Hello and Happy 4th," Hall captioned the post. "Bowtie for every occasion. Lol."
FAN REACTIONS
Not surprisingly, the comment section was awash with fans who couldn't get enough of baby Moses' cuteness.
"Your precious baby boy is sooo yummy!! He has such a sweet demeanor in every picture!" ~@mrs_teeroseroach
"He looks like a little political analyst lol. He's adorable and so is that outfit." ~@taiwan0221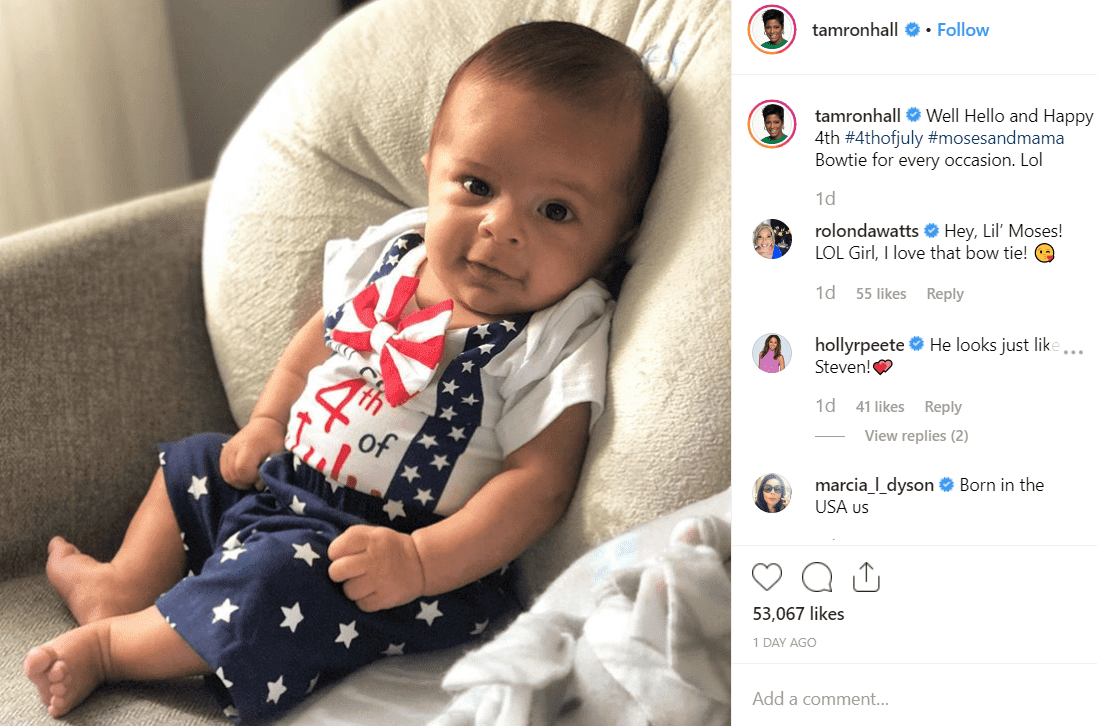 Baby Moses. |Photo: Instagram/Tamron Hall
A WORD FOR TROLLS
Moses sure has a lot of fans, but that doesn't mean there aren't the occasional trolls who do their best to find something negative to say, especially when it involves celebrities.
Hall has been in the spotlight for many years and knows this too well, which is why we're not surprised she stayed one step ahead of mom-shamers in a recent "Moses and Mama" picture she shared to Instagram.
In the photo posted earlier this week, Hall stands in a pool, wearing a cut-out floral swimsuit while holding up her son for a kiss.
Moses only had on a shirt and diapers, so in the caption, Hall made sure to add that "he wore a sun hat the entire trip except this one second, no babies were harmed in the making of this picture."
Hall and her music executive hubby Steven Greener welcomed their "sonshine" on April 24, less than eight weeks after the talk show host revealed that she was pregnant and married.
PRIVATE MATTERS
Hall told PEOPLE in May that many folks assumed she was keeping her husband secret when in fact she was only protecting her family's privacy.
"I think today, people mistake privacy for secrecy. People say he's my 'secret husband.' But we were going everywhere together; it was just a private thing I needed to protect."
Despite letting the world know that she and Greener, 51, tied the knot, Hall is still fiercely protective of their relationship and hardly ever posts pictures with the man she calls her "deepest, greatest love."
Hall is more forthcoming with news about her professional life, however, and has been promoting her September return to daytime TV with "The Tamron Hall Show."
Please fill in your e-mail so we can share with you our top stories!