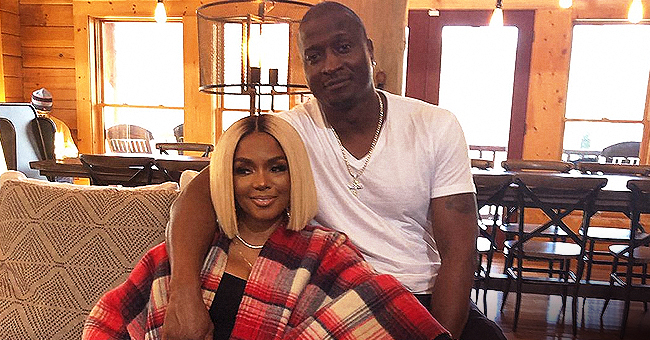 Instagram/frost117
Kirk Frost Touches Wife Rasheeda's Belly in Recent Photo & Fans Think She's Pregnant

A sweet photo posted by Rasheeda Frost's husband Kirk has fans wondering if the "Love & Hip Hop: Atlanta star" is expecting her third child.
A photo posted by Kirk Frost, the husband of rapper Rasheeda Frost on Instagram has sparked off a storm of speculation among fans.
Followers of the "Love & Hip Hop: Atlanta" star believe that Kirk is hinting at the imminent arrival of a new baby.
RASHEEDA FROST PREGNANT AGAIN?
The photo that started the furor shows the couple sitting on a couch, with Rasheeda's figure obscured by a woolen plaid wrap, even though it's summer and Kirk is in a t-shirt.
Suspicion is fueled by Kirk placing a sweetly protective hand in the vicinity of Rasheeda's tummy as if caressing a baby bump.
FANS COMMENT ON RASHEEDA'S "PREGNANCY"
Rasheeda and Kirk's followers immediately picked up on the hint and flooded the post with comments.
"She MOST definitely looks pregnant.So cute. Be following lhh Atlanta because of yall. Y'all give me hope in black marriages."
"Rasheeda you know pregnant @rasheeda. @frost117 and @rasheedadaboss.chickk y'all are a power couple glad y'all worked through the bs and stayed together because what God put together can't no man break apart."
"Is sheeda pregnant again KIRK @frost117 come on CLEAR the air @rasheeda. Is Kirk hand on her stomach? Is there something cooking in the oven?"
RASHEEDA AND KIRK FROST'S MARRIAGE TROUBLES
Rasheeda married Kirk in 1999 and the couple shares two sons, Ky, 18, and Karter, 6.
The two went through dark times, with Rasheeda filing for divorce after it came to light that Kirk had been unfaithful.
KIRK FROST IS THE FATHER OF 7
Rasheeda discovered that Kirk had cheated on her while she was pregnant with Karter, and fathered a son, Kannon, with a stripper named Jasmine Washington.
Kirk has a total of seven children, including Kannon, Karter, and Ky. Fans are hoping that he will soon be welcoming his 8th baby, Rasheeda's third - and that this time it will be a girl.
It would be a lovely way for the couple to celebrate the renewal of their love by welcoming a new baby.
RASHEEDA FROST'S VIDEO: IS SHE PREGNANT?
Kirk Frosts' recent post on Instagram isn't the only reason fans suspect Rasheeda may be carrying her third child.
Rasheeda shared some video clips of herself working out to work off some of those extra grams picked up over Memorial Day weekend, and once again the fan's suspicions are aroused.
In the clip, Rasheeda is kicking her leg back, while keeping a protective hand cupped over her belly which seems quite rounded.
Even after the exercise is over, Rasheeda keeps her hand on her tummy. Is she giving a "passenger" a little love? Hopefully, the Frosts will open up about the good news soon!
Please fill in your e-mail so we can share with you our top stories!