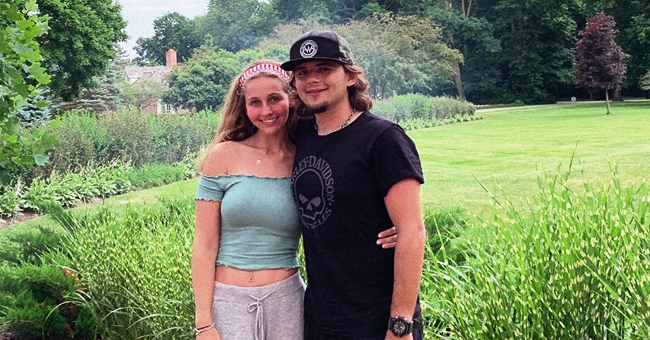 Instagram/princejackson
Michael Jackson's Son Prince Shared Photos with His Beautiful Girlfriend on 4th of July

Prince Jackson showed off his beautiful girlfriend with new photos from their 4th of July celebration on Instagram, and they looked adorable together.
Prince Jackson and Molly Schirmang are going strong and sharing their holidays. The two spent the 4th of July celebration in each other's company, and Prince shared their time together on Instagram.
TWO YEARS AND STILL TOGETHER
In the post, the young couple stood side-by-side with their arms around each other; had a green field, trees, and a beautiful rainbow as their backdrop.
The King of Pop's son wore a black polo shirt, a baseball cap of the same color and sweatpants, while Molly wore a teal-green off-shoulder top on grey sweatpants and held her hair back with a red and white hairband.
In the next photo, the Business Administration graduate gave his girlfriend a piggyback ride as she laughed from behind. Prince captioned the photos and ended it with three emojis, one of which is the flag of the United States. The caption reads:
"Happy freedom day to y'all. Hope you guys spent it with loved ones?"
OPPOSITE AND COMPLEMENTARY
The young couple has been together for about two years, and they recently graduated together from Loyola Marymount University, where they met.
The 22-year-old college graduate once said that the beauty of their relationship is that they balance each other out; in his words, they are "Opposite and complementary."
A source close to the two told "HollywoodLife" that Prince and Molly are very normal and prefer to keep their relationship away from the public. The source equally told the news outlet that the late Michael Jackson's son sees his 21-year-old college sweetheart as someone he could marry someday, but is focused on getting his career along for now.
THEY HAD THEIR FIRST PUBLIC OUTING IN JUNE
In June, Prince and Molly attended the Los Angeles Dodgers Foundation Blue Diamond Gala, which also happened to be their first red carpet event together.
Molly dressed in a white crochet outfit and black heel sandals, while her boyfriend, wore a navy suit, light blue shirt, and dark shoes. The two posed for pictures side-by-side, smiling happily, and holding on to each other.
That same month, Prince honored his father's memory on the 10th anniversary of his death on June 25. He got together some of his friends and took a motorcycle ride across Central California with them.
The ride took them to Yosemite National Park, and the young entrepreneur revealed in an Instagram post that it was his first visit to the park. Prince had Molly's support during that period, and like most things in their lives, they always have each other's backs.
Please fill in your e-mail so we can share with you our top stories!