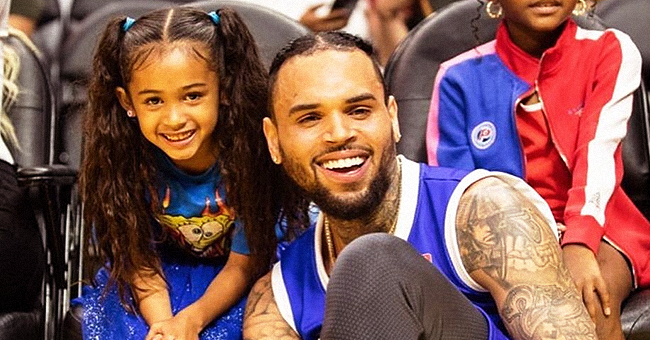 Instagram/royaltyxbrownn
Chris Brown's Ex Nia Guzman Shuts down Claim That He Owes Child Support Money
It's all good between Chris Brown and the mother of his daughter Royalty, Nia Guzman, as the model recently shut down rumors about the singer being behind on his child support payments.
Nia Guzman is tired of the bad press surrounding her baby's daddy, and she's asking people to stop the Chris Brown hate train.
FAKE NEWS
On Friday, The Blast reported that according to court documents, Guzman slammed Brown for staying behind on his child support payments and failing to provide the housing he agreed to supply last year.
However, Page Six reached out to Guzman, and she slammed down the report, choosing to defend the "Loyal" singer instead.
"Not true! All is great on our end!" she said. "Please stop with the Chris Brown bashing."
Guzman seems to be fed up with the constant negative allegations against the father of her child, as she added:
"It's just sad that negative things hurry and try and get published! We are just tired of it. He does pay and is not behind whatsoever."
Guzman's statement was backed up by Chris Brown's rep, who told Page Six: "Chris has been taking care of his child, and he and his daughter's mother have no issues."
CO-PARENTING TROUBLES
Although Nia and Chris seem to be in a good place now, it took them a while to reach a common ground after the birth of Royalty, who's now 5.
Last year, Guzman was demanding an increase in the child support payments she received from Brown, who was shedding $2,500 per month, plus $4,000 for a nanny—who happens to be Nia's mother—.
However, Guzman argued that since the singer was making a hefty average of $350,000 per month, she should receive $21,000 per month and $250,000 in retroactive child support.
Brown fired back to Nia's request by alleging that "providing a four-year-old with everything she demands could be harmful and is not in her best interest."
The former flames eventually reached an agreement, that wasn't disclosed to the public. However, sources told TMZ that Nia would receive a significant increase in the payments, and Brown compromised on buying a new house for her and Royalty.
ROYALTY'S SISTER DUTIES
Royalty, who's already making a name for herself with a clothing line, became a big sister last month.
Nia Guzman took fans by surprise when she shared a photo of a baby's hand grabbing her heavily tattooed hand, as she never announced to the world she was pregnant.
Now, Royalty has been enjoying her duties as a big sister, and she seems to love her baby sister very much.
And if the rumors swirling around are true, the 5-year-old will have two babies to look after very soon, as Chris Brown might be expecting his second child with ex-girlfriend Ammika Harris.
The "She Ain't You" singer hasn't confirmed the news yet.
Please fill in your e-mail so we can share with you our top stories!