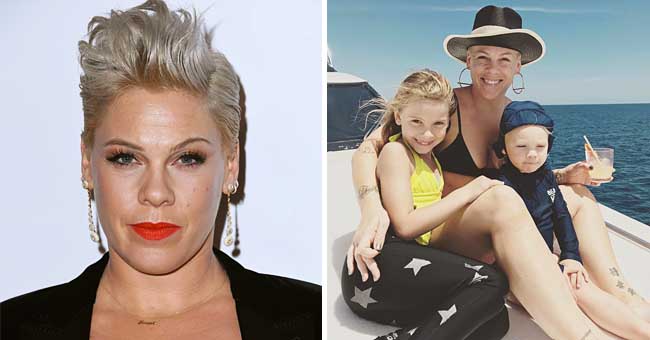 GettyImages/GlobalImagesUkraine
P!Nk Shares a Sarcasm-Laden Post about Her Children in Response to the 'Parenting Police'
After a series of bashing and confrontation with online critics over her parenting skills, mother-of-two, P!nk, drops a subtle post replying her haters in the most sarcastic way possible.
The singer, full name - Alecia Beth Moore took to Instagram the blast her critics yesterday. The post which featured her 8-year-old daughter, Willow was accompanied with a caption which read:
"Here's a picture of my child running through water. It wasn't even filtered. What a waste of water. And no helmet?"
She continued sarcastically:
"I hope she had sunscreen. If she slips and falls, she may be traumatized for life. And her mother wasn't even there. I was..... gasp.... working!!!! In another country!"
And concluded the caption with a list of hashtags of which one was '#f---theparentingpolice.'
The post which is believed to be a jab at critics is not a complete surprise. P!nk has been a victim of online bullying over her parenting skills several times with internet users going as far as threatening to report her to child services for not taking great care of her kids.
An instance is when she posted a family picture, which showed Willow and her two-year-old son Jameson without his diapers on at the beach. This was in March, and the singer was heavily criticized.
In a clap back targeted at those she called 'keyboard warriors,' she stated that they were 'disgusting.'
Pink's husband, Carey Hart, has also not been spared from the criticism. However, it seems like both parents may have picked their tricks from the same book for dealing with online foes.
Last year, the dad posted a picture of Jameson with him on a jet ski and followed it up with a similar sarcastic caption:
"Don't worry parent police, he is safe, and I put him right back in his bubble when we were done," Carey wrote.
IS THE CLAP BACK AT CRITICS A NEW TREND AMONG CELEBRITIES
Apparently, it's not the singer and her husband alone that have been victims of the unfortunate confrontations with internet users.
Several other celebrities have had their share of the hate, and now, are dealing with them squarely.
One of such is former Miss America contestant and TV meteorologist, Ashlee Baracy.
The on-air personality who has been receiving attacks from haters, particularly when she became pregnant took to her social media page to respond.
In a post, Baracy revealed some of the offensive messages she had been receiving.
She was surprised by the turnout of events which had many of her fans coming to her aid and defend her.
Inevitably, critics would start to have a rethink now as these famous faces are no longer sitting back and getting trampled on.
Please fill in your e-mail so we can share with you our top stories!