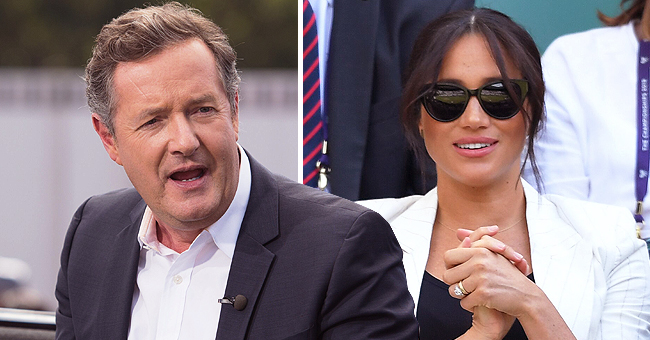 Getty Images
Piers Morgan Slams Meghan Markle for Allegedly Asking for Privacy at Wimbledon

Piers Morgan criticized Meghan Markle for requesting privacy at Wimbledon, which ultimately backlashed on him as people are now criticizing him for his rude comments about the Duchess.
Piers Morgan, while on "Good Morning Britain," told Meghan Markle she should "go back to America" if it's privacy she wants. The broadcaster made the remark after it was revealed Meghan's security guard asked people in Wimbledon not to photograph her because she was "attending in a private capacity."
The TV host pointed out that she and Prince Harry are most definitely "not private people," and attending an event like Wimbledon would really need her to be open to the public.
"It's not a private place. If you want to go to a private place, don't go to the Royal Box at Wimbledon."
On being a public and private individual
He adds that it seems Meghan Markle is still having difficulty choosing between being a public figure as a royal, or a private individual.
"If you go to Wimbledon in your free tickets in the Royal Box, the best seats in the house for nothing, and you take your two bezzies... you're public people. If you want to be private, go back to America and live privately."
This isn't the first time the TV anchor has blasted Markle for her behavior, as he once called her a "fake social climber."
Piers Morgan appears to be absolutely hurt by Meghan Markle being a royal, and it shows in the way he makes comments about her on live television. During one of his interview with Deborah Knight of Mail Online, he shares that Markle used people to get to where she is today.
A Social Climber?
When Knight asked: "Is Meghan really fake and a piece of work as I know you've said before?" He responded with "You know what, I'm sorry to have to say I'm afraid I think she is."
"Although some people really like her and are falling for this act I'm afraid I see a bit of a hard-nosed actress. Who's using people on her way up to what is now, of course, the top, which is marrying into the royal family."
A Stern Message
Piers concluded his rage-filled rant by giving Prince Harry a message:
"Good luck to Harry. I hope he knows what he's doing. If it all goes wrong don't come try crying to me. Don't say I didn't warn you."
Please fill in your e-mail so we can share with you our top stories!