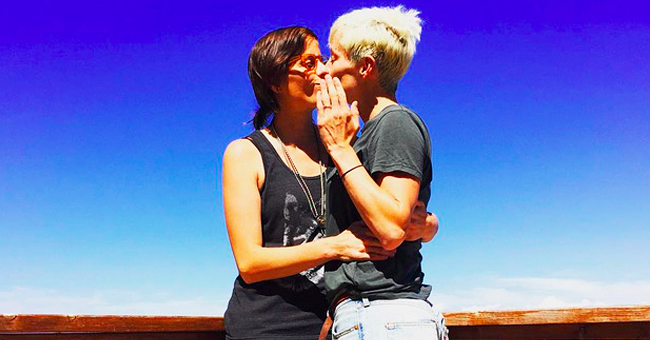 Twitter/HollywoodLife
Meet Sera Cahoone, Megan Rapinoe's Ex-Girlfriend Who Was Engaged to the Football Star for 2 Years

Sera Cahoone stepped into the public eye when she got engaged to the soccer star Megan Rapinoe, but irrespective of their split two years later, Sera continued to grow as a musician.
Megan and Sera announced their engagement on August 7, 2015, three days after Sera's 40th birthday while Sera served as drummer and singer-songwriter to Band of Horses. "This little lady is getting married," Megan wrote on Instagram alongside a picture of them embracing.
The couple decided to take a break from wedding planning in 2017 because it became "stressful," and they had both had a draining few months. Megan had been training for the Olympics and had suffered an injury, while Sera dealt with a personal loss.
She released the album "From Where I Started," that featured a track called "Ladybug." The song told the story of her cousin, Tawnee Baird, who got murdered by her partner a few years before.
It took Sera a long time before she could pen that song as Tawnee's death deeply impacted her. "I actually had a really, really hard time with that song. It was a song that I just needed to write, you know? I really went back and forth [debating] if this is a song that should even be on the record, because it is a really hard topic, and it is a weird thing to have on the record," she said.
What made it a difficult topic is the fact that Tawnee was lesbian and domestic violence between lesbian couples are often not even considered.
"You never think anything like this is gonna happen to your family. Another thing is queer domestic violence you don't really hear about, especially two women. You never think — and that's also with my family — you just don't think that two women are gonna do that to each other," Sera added.
She used the excellent response she received to "Ladybug" to help raise awareness of domestic violence among couples in the LGBTQ community when performing and talking about the song.
Sera's soccer star ex also continued her advocacy effort for the LGBT community with Athlete Ally, and so did Megan's new girlfriend Sue Bird.
While Megan publically came out in 2012, the basketball star Sue Bird didn't see the need in fully coming out to the public until she met Megan, even though her friends and family knew since 2002.
"Being around Megan, I learned that. And then after I came out, just seeing the reactions, having people come up to me directly. I think there's just something really powerful about that," Sue told ESPN in 2019.
They became the first openly gay couple on ESPN's Body Issue cover, and for them, it is a step towards making it the "norm" as Sue added, "I think to have a gay couple on [the cover]; hopefully, it just becomes the norm. You want it not to be an issue. You want it just to be, Oh, another couple is on there. You know, I think for us to be on it is the first step in that direction."
After the US female soccer team won the world cup in July 2019, Megan and Sue took another step in that direction with a celebratory kiss.
Please fill in your e-mail so we can share with you our top stories!