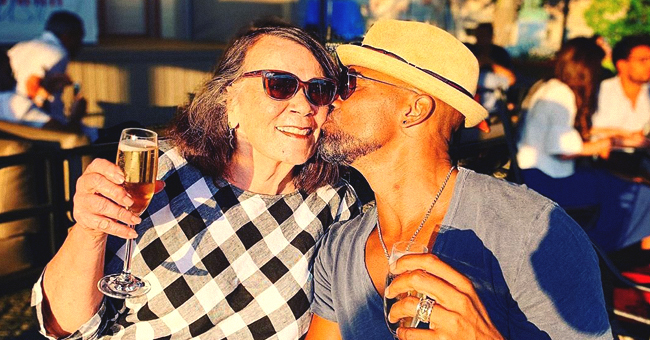 instagram.com/shemarfmoore
Shemar Moore Shares Touching Video from a 'Dream Vacation' Taken with His Mom Battling MS

Shemar Moore is a total mama's boy and proud of it. He went on vacation with his mother and she revealed that her extremely fit son once had a "buddha belly."
Shemar, 49, is known not only for his dazzling smile but also for the rock hard abs he often shows off on his Instagram account. In a recent post, however, the actor was proud to share the spotlight with his beloved mom.
The two were on vacation together for the summer, but it didn't stop Marilyn from doing her job as a mom and embarrassing her son with stories from when he was smaller. The post is found below.
Shemar didn't seem to mind too much though, especially since he opted to keep the post up on his social media. He captioned it, "Buddha Belly" "......... TMI momma TMI!!!!"
He added: "DREAM VACATION!!!! ..... Journey of TWO Dreamers..... "Partners in Crime." In the video, Marilyn's story was mostly inaudible, but her explanation of why her son was a "Buddha Belly" was clear.
"Because you had that big old round belly," she said. Shemar took the opportunity to tell fans that his abs games "wasn't always on point." They commended Shemar for having such a sweet relationship with his mother.
The "Young and The Restless" alum shared another picture of him and his mother on their vacation both holding filled glasses. Shemar planted a kiss on his mother's cheek in the shot.
"Me n Momma Marilyn.... appreciating how far we've come TOGETHER!!!! Sipping Champagne and living our BEST LIFE!!!! THANK YOU DENMARK?? And SWEDEN," he captioned it.
Marilyn has also come a long way in her journey as she battles multiple sclerosis. Shemar revealed that his mother was diagnosed with the disease in 2015, saying that he was in denial for about two years after the 1999 diagnosis.
He explained that at first, he told his mom to take it easy, but when things worsened for Marilyn, he focused on doing what he could to help. Though Marilyn still has "down days," she's typically up and about whenever she wants to be.
As for Shemar's dad, the "Criminal Minds" actor is not nearly as close to father Sherrod Moore. That's because of the history between his parents, which may have involved violence on his father's part.
The African American dad was in jail for a while years back. And when Shemar spoke to Larry King in an interview, it was apparent that Sherrod had done something to Marilyn.
Shemar also once had an exchange with his mom, but it was not violent, just accidentally inappropriate. The star divulged that one time he shared a teasing text to his mother thinking it was his girlfriend at the time.
Shemar explained that he asked what his girlfriend was wearing and told her to be ready for when he got home. By the time he pressed send, he noticed his mom was the recipient — but it was already too late.
Shemar's birthday dance for his mom in September 2018 may have made up for the awkward slip-up. The "S.W.A.T" star celebrated the occasion by sharing a video of him doing the dance called the "Stanky leg" in front of his mom.
The carefree and loving relationship between the two is something all men should have with their own mothers. We wish Marilyn success as she fights her illness and commend Shemar for being such a sweet son.
Please fill in your e-mail so we can share with you our top stories!