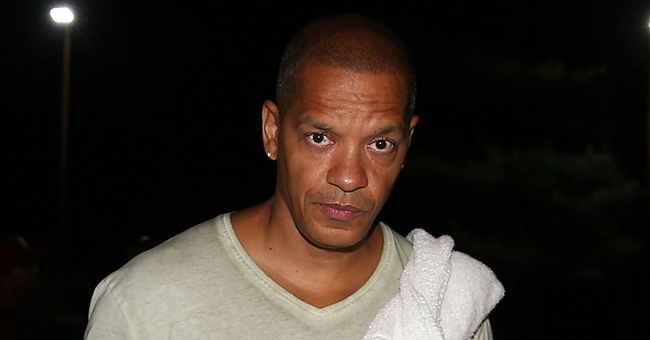 Instagram.com/petergunz174
Peter Gunz Takes Daughters to the Beach after Online Clash with Amina Buddafly & New Man
Peter Gunz recently enjoyed a day on the beach alongside his two daughters with ex-wife Amina Buddafly, just a few days after they got involved in a very public brawl on Instagram over Amina's new boyfriend.
Peter Gunz was on daddy duties with Cori and Bronx, his daughters with Amina Buddafly, as he took them to the beach for a fun-filled day under the sun.
The former reality star shared a video where he's carrying little Bronx on his arms, as she looks on to her sister Cori, who was happily jumping on the water.
"Chex & True.. Back on X B Day and can't wait Lil Momma!!!" Gunz captioned the clip.
The video came just a few days after Gunz and Buddafly got into a public discussion for all the internet to see on Instagram live.
THE PUBLIC DISCUSSION OF A PRIVATE MATTER
It all started when Amina—who was married to Gunz from 2013 to 2018 while he was still with his other baby mama, Tara Wallace—took to Instagram to share a pic with her new man that featured her new upcoming song in the background.
"Can't wait for the world to hear all of the magic we've created Love you @m.west1 #youmakemebetter," she captioned the post.
Soon after, Gunz hoped in the comment section stating that Amina had invited him to stay at her home and backed down three days later when she told him about her new boyfriend.
"At least I told you, better late than never. I always keep it 100," Buddafly replied.
But Gunz was not done. He took to Instagram live to vent his feelings about the fact that Amina brought a new man to be around their daughters without consulting him about it first. In an unexpected plot twist, Amina soon joined the live and gave her boyfriend the chance to speak to Peter's face to face while fans watched.
The boyfriend, Marty West, slammed Gunz' complaints stating that Amina doesn't need his permission to do anything. Gunz wasn't having it, and cut the conversation, telling Amina that she could join the live if she kicked out West.
RECLAIMING HIS SPOT
Just two days later, Gunz was in California—he lives in New York—to see his daughters.
Fans didn't let the situation slide. Some criticized him for choosing to spend time with his daughters only to spite Amina and her new man, and others praised him for being such a good dad and standing his ground with actions and not words.
"Chiiilldd, Amina showed off that new man, and he hopped on the first thing smoking to LA!" wrote one user. "Men can't take an ounce of the medicine they give out. And watch them, kids, before they drown, you're too busy trying to record."
Another added, "He went and got his kids. I know that's right."
And a third one asked,
"so it takes the bm to be in a new relationship to be around the kids??"
A SHAKY RELATIONSHIP FROM THE START
It's not the first time that Amina and Peter get into an ugly fight that ends up playing out for fans to see.
Their messy love triangle with Tara Wallace was one of the major plots during four seasons of "Love & Hip Hop: New York," and even Gunz admitted they got married on shaky grounds.
"When the wedding was over, she went home, and I was living with someone," he told Bossip. "The way we got married, how did we expect for something like that to last?"
Last year, Buddafly slammed Gunz for failing to attend Bronx' birthday in Germany, calling him out for not keeping up with his promises and adding, "We good. We get it. And we will be fine. My daughters got all they need deuces."
Amina and Pete's divorce was finalized in January 2018.
Please fill in your e-mail so we can share with you our top stories!