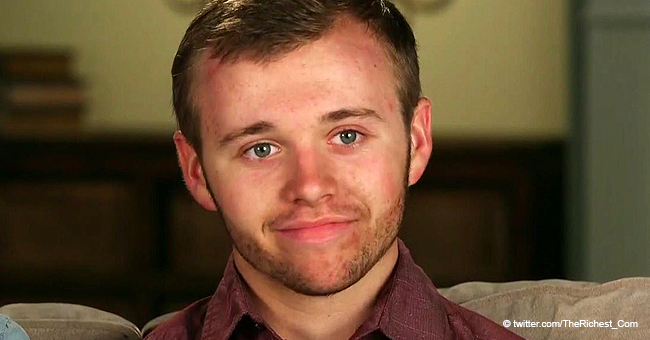 Jason Duggar: Fans Believe He is Courting his Sister-in-Law's Sibling

Jason Duggar, Jim Bob and Michelle Duggar's 19-year-old son, has been seen in the company of Lauren Caldwell.
While nothing is confirmed, fans believe that Jason Duggar may be engaged to Lauren, Kendra Caldwell's sister.
Kendra is married to Jason's older brother, Joseph Garrett Duggar. The couple has one son and is expecting their second child.
COULD JASON BE DATING LAUREN CALDWELL?
Back in February, Jason went on a mission trip to Greece. Eagle-eyed fans noticed that Lauren sat next to Jason in nearly all the photos taken by Anna Duggar.
Fans speculated that Anna was chaperoning the young couple, as courting couples are not allowed to be alone together.
Since Jason returned from the mission trip to Greece, the 18-year-old Lauren was spotted at the Duggar home at least twice.
It wouldn't be unheard of for a 19-year-old Duggar to think about marriage, as most of the Duggar siblings marry young and start with a family as soon as possible.
FOLLOWING IN THE FOOTSTEPS OF HIS SIBLINGS
Jason could very well be following in the footsteps of his older sisters, Jinger and Jill. Both Duggar sisters met their husbands on missionary trips.
Jinger and Jeremy describe on their website that their meeting was "an interesting happenstance" when they were both visiting San Antonio in Texas.
Jeremy admits that he asked for Jim Bob's permission to court Jinger while on the missionary trip with the Duggars.
In addition, Jill and Derick had initially met in 2011, but their paths crossed again in 2013 when Jill visited Nepal with her father.
She met Derick there again, and the couple spent the two-week trip getting to know each other before officially beginning their courtship.
If Jason and Lauren were dating, the timing would be perfect as a new season of "Counting On" is in the making.
And what better way to kick off a new season than with wedding plans and talks of babies. However, if that is the case, Jason has a tough time ahead of him.
STRICT COURTSHIP RULES FOR DUGGAR CHILDREN
According to the Duggar rules, all dates must be accompanied by a chaperone and the courting couple will only be allowed to hug each other.
Hand-holding is only allowed once a couple is engaged, and the first kiss should be shared on their wedding day.
In addition, the couple will have no privacy whatsoever. Both Jim Bob and Michelle must be included in all text or emails between the two love birds.
Please fill in your e-mail so we can share with you our top stories!