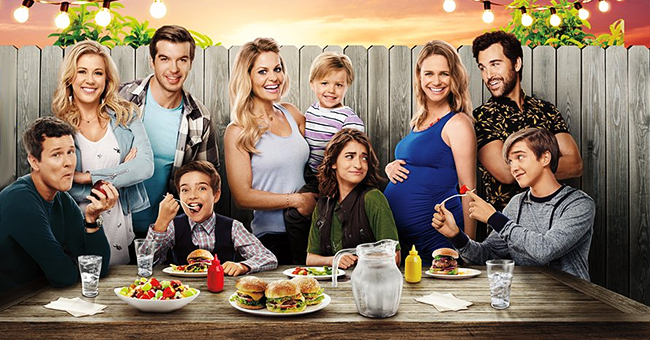 twitter.com/fullerhouse
Juan Pablo Di Pace of 'Fuller House' Comes out as Gay in a TEDx Talk

A recent TEDx Talk witnessed an emotional moment when Juan Pablo Di Pace disclosed a touching revelation to the audience. The Fuller House' star gave an impassioned speech in which he told everyone that he is gay.
Juan Pablo Di Pace, 39, made a surprising revelation to the audience at an edition of TEDx Talk. The video in which the star made the revelation was recorded in March but was released on YouTube in June.
JUAN PABLO'S REVELATION
The Fuller House star told the audience that he struggled with his identity and quest to be accepted for many years. This was as a result of someone calling him an anti-gay slur when he was still a child.
He further explained that he hated the tag given to him by that person so much that he spent years trying to perfect the role of a convincing little actor. He further explained that he was trying so hard to fit in and was seeking to know what it meant to be part of life, and also discover other people like himself.
THE ROLE THAT MADE JUAN ACCEPT HIS IDENTITY
Juan continued to struggle with his identity until he was given the role of "Jesus Christ" in the NBC Miniseries A.D "The Bible continues." He explained that he was surprised to have been given such a role to play.
While hanging on the cross, he looked up in the sky and told God that he could still strike him down with thunder, and asked Him if he was sure He wanted him to play the role of His son.
God didn't strike Juan down, and it was a very powerful experience for Juan.
He was overwhelmed with a feeling of love, acceptance, and freedom that he couldn't explain.
JUAN FINALLY TELLS THE WORLD ABOUT HIS SEXUALITY
The actor's decision to finally tell the world about his sexuality was due to the students present in the audience. The students of the United World College in Maastricht, Netherlands, invited the actor for the talk, as they felt that his story could prove an inspiration for them.
The actor had come out with his sexuality twenty years ago, but only to close friends and family members. When it came to his career, he was scared to publicly open up about his sexuality as he feared the outcome of such a revelation.
One other reason the actor revealed his true sexuality is that he feels there is more work to do in the aspect of acceptance.
Since revealing his identity, the Argentine-born actor has felt a sense of relief. He also advised people struggling with acceptance or rejection as a result of their sexuality to grab whatever life throws at them and make something out of it, no matter how painful it is.
As the days go by, more public figures are being open about their sexual identity. Recently, hip-hop act, Lil Nas X's whose song, "Old Town Road" has been topping global charts posted a series of tweets to reveal he is gay.
It also brought to fore the importance of LGBTQ education in children, though some parents prevent their kids from the knowledge of such topics.
Please fill in your e-mail so we can share with you our top stories!