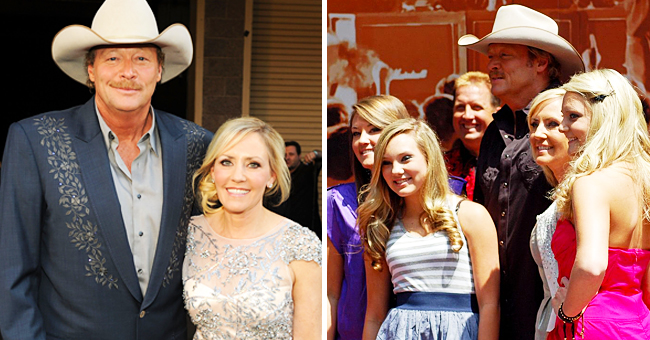 Getty images / Wikipedia
Alan and Denise Jackson's Marriage Struggles

Country's Golden Couple, Denise and Alan Jackson's brief separation may have shocked fans but ultimately led to their reconnection with faith and each other.
The couple's love story began as teenagers in Newnan High School in Georgia. At the age of 16, the cheerleading, tennis player achiever, Denise fell for the eighteen-year-old Alan.
They married right after Denise finished high school in 1979 and became a teacher after she got a degree in college.
In pursuit of Alan's musical dreams, the couple moved to Nashville in 1985. While Alan worked in a mail room during the day, he played his music anywhere he could at night.
"Denise became a flight attendant, and due to her meeting Glen Campbell at Atlanta's airport, Alan got the opportunity to record his first album, "Here in the Real World."
The 1990 album became a huge success and sold over 2 million copies, but the year had more good news in store. Denise gave birth to their first daughter, Mattie, followed by Alexandra in 1993 and Dani four years later.
In recognition of his contribution to music, Alan got named Entertainer of the Year by the Country Music Association in 1995 and attributed his success to Denise. "There is just one person I need to thank. I married her when she was too young to know any better," Alan said during his acceptance speech.
By then rumors of Alan's infidelity with singer Faith Hill and being out on the road "all the time" had already caused trouble in their marriage, but they kept it private.
However, in March 1998, the couple's publicist confirmed that Alan had moved out of their 25,000-square-foot recently completed dream home in Tennessee.
Their marriage was perfect as far as I was concerned. As to their having problems, I was as shocked as anybody," TV broadcaster Ralph Emery told PEOPLE.
The couple separated for four months, Denise exhausted herself in trying to get Alan back and then found "peace" in her faith.
"The greatest blessings in my life have come out of my worst shattering," she told People. "His betrayal and our separation were what led to this new, passionate love relationship with God and also led to us being able to have the kind of marriage that we both always wanted but just didn't know how to have."
In 2007, Denise released her book, "It's All About Him: Finding the Love of My Life" wherein she wrote about her life lessons and her way back to God.
"It's not enjoyable to talk about your mistakes and regrets. But he knew why I wanted to write the book and that it was important for me to admit that he had been unfaithful because one of the main messages of the book is about forgiveness and how healing can come when we work through problems and infidelities," Denise told Newsweek.
In hindsight, Denise realized that her insecurities led her to forget about her aspirations in life. "Alan has such a strong personality, and the more his career grew, the more insecure I felt, and the more I absorbed myself into his world," she said. "My dreams became his dreams, and it was all about him and his goals, and I kind of lost myself."
Three years after Denise's book release, she got diagnosed with colorectal cancer and got declared cancer-free after chemotherapy. But the experience changed their outlook on life and changed their priorities.
Resultingly they sold some of their residences to simplify their lives and spend as much time together as they can.
"We try to get out and go to dinner or hang out and go to the movies or something. It's just little things I think that has helped us more than anything. If you can last until you're 40 years old, hopefully, you'll be mature enough to figure out the rest of the years." Alan told the Boot.
Another legendary country couple stands out when it comes to long-lasting love — the African American music legend Charley Pride and his wife, Rozene.
In 2019, the couple gave a glimpse into their 62-year-and-counting marriage and a love that began long before his rise to music fame.
Please fill in your e-mail so we can share with you our top stories!