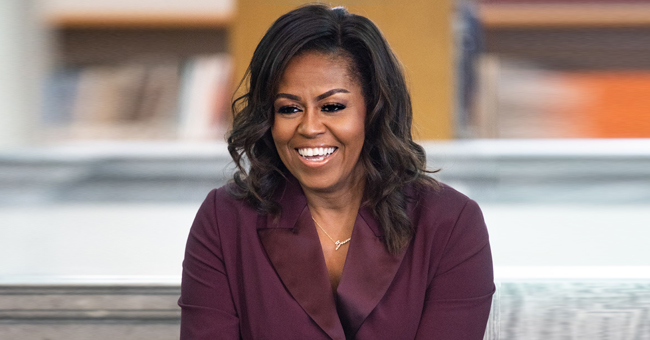 GettyImages
Inside the $23-Million LA Home That Michelle Obama Reportedly Rented for 2 Days
Days after taking the stage at the Essence Festival in New Orleans, Michelle Obama flew to Los Angeles for a two-day stay. There she reportedly rented a luxurious Hollywood Hills house known as the "Shark House" for its air shark aquarium.
The Obamas never economize when it comes to accommodation.
Just a few weeks ago, during their vacation on the South of France, the family stayed at the Le Mas des Poiriers, a luxurious 18th-century farmhouse on Bathelasse island which rents for 55,000 euros a week, which is around $60,000.
TWO-DAY STAY, LAVISH ESTATE
Now, TMZ is reporting that Michelle Obama recently rented an L.A home which is up for sale at $27 million and has never been lived in.
According to the news site's sources, the former first lady stayed at the house on Monday and Tuesday, and there was a vast amount of security presence. The owner even had to turn off all of the security cameras on the property.
During her trip, Michelle made a visit to Bryan Lourd's home—the managing director of Creative Artists Agency—where she mingled with a crowd of celebrities and high execs of the industry that included people like Bradley Cooper, Shonda Rhimes, director Spike Jonze, Warner Bros film exec Niija Kuykendall, and Kerry Washington.
Deadline reports that Obama made sure to talk to the other guests about the Obama Foundation and its non-profit work.
SCOURING THE AREA
Although she was in L.A for only two days, the rumor mill around the real-estate world is that Obama might be scouring the area, and event the Shark House, to set roots in the city now that she and her former president husband are empty nesters.
The 12,800 square foot house, which is not publicly available for rent, boasts an incredible view of Los Angeles that is accessible thanks to its glass walls and open spaces.
It also has an elevator, automated doors, spa, sauna, gym, a home movie theater, walk-in wine room, outdoor and indoor swimming pools, hot tubs, and its most significant attractive: a two-feet-deep aquarium with real sharks, stingrays, starfish, and other fishes.
The house is listed under brokers Tomer Fridman and Kurt Rappaport.
NOT SO FAR-FETCHED
The idea of Michelle and Barack moving from Washington D.C to Los Angeles doesn't sound so far-fetched considering they recently signed a multi-year deal with Netflix to produce several scripted and unscripted series, documentaries and other shows through their production company, Higher Ground.
"We created Higher Ground to harness the power of storytelling. That's why we couldn't be more excited about these projects," Barack Obama said in a press release. And continued:
"Touching on issues of race and class, democracy and civil rights, and much more, we believe each of these productions won't just entertain but will educate, connect, and inspire us all."
Netflix Chief Content Officer Ted Sarandos, said last year that the company is "incredibly proud" the Obamas chose Netflix as the home "for their formidable storytelling abilities."
Please fill in your e-mail so we can share with you our top stories!